Instead of the Dishes » Go Green » Eco Fab Store Now Open! (and a giveaway)
November 4th, 2010 | 1 Comment
Yesterday I stopped by the new Eco Fab Store, located in the Promenade shopping center in Chenal.  I've been looking forward to this store opening for a long time, and was excited to get a store tour from owner Danelle Hoffer.  Danelle and her husband Joe also own CynerGreen, a company based out of Cabot that focuses on providing earth-friendly hydration solutions for businesses, schools, and organizations. The Hoffers' daughter, Riley, heads up the non-profit arm of the company, CG Kids.
So, back to Eco Fab.  In short, the store is small, but mighty.  There's truly something for everyone, and all of it is eco conscious.  I literally spent an hour an a half in the store and still did not see everything they have to offer.  Here are a few things that caught my eye, though! (click images to see larger)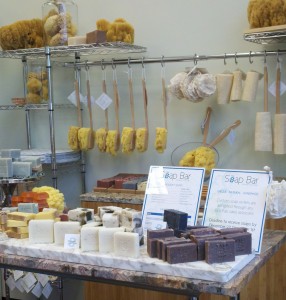 Just inside the front door, the soap bar awaits!  VALE Soaps are made in Cabot by Joe Hoffer himself, using only natural ingredients.  There is a great selection of shapes, scents, and sizes at the soap bar, but you can also custom order soap to fit your preference.  I've seen artisan soap before, but there is something extra-tantalizing about the scents, shapes, and feel of this soap.  I was informed that I was not the first shopper to carry on a conversation while holding a bar of soap under my nose the entire time.  The sponges, which are responsibly harvested off the coast of Florida, were nearly as beautiful as the soap.
Moving along, there's a great little area full of gifts and educational fun for little ones.  Books, school supplies, toys, and clothing are included in the kids area.  Eco Fab also hosts Saturday morning storytelling at 10:30am.  This Saturday (Nov. 6th) will be all about bees!
The coffee bar at the back of the store features both local and fair trade coffees, in addition to a wide selection of eco-friendly mugs and beautiful tea brewers designed to take on the go.  There's a coffee club that offers a reduced rate cuppa once you buy a mug.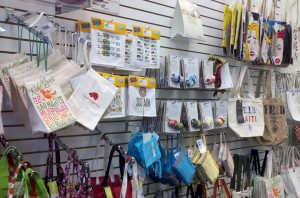 I nearly ran to one shelf when I spied what I thought were a collection of pretty purses and bags.  Wrong!  The bags were actually the most fashionable reusable lunch bags I've ever seen.  All the bags are insulated and many had utensils attached.  I couldn't help but open a few to appreciate their roominess.  Aside from lunch bags, Eco Fab sports an impressive collection of reusable shopping bags, organic cotton totes, reusable napkins, lunch baggies, and more.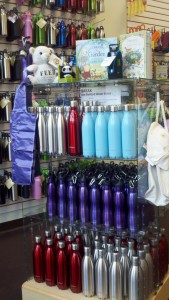 There is, of course, a huge selection of metal water bottles in just about every style and shape you could want.  You'll also find bamboo kitchen wear, baskets woven by hand with grass or newspaper, notecards, artwork, and a line of yummy smelling, clean burning candles called Paddywax. In the way of jewelry, there are pieces from designers in New York, India, and Hawaii made from materials including reclaimed felt, recycled bottle caps, and antique beads. The selection ranged all the way from funky to romantic – something for every gal for sure.
As a "green fiend" the products Eco Fab carries are very appealing to me, but I think that  all you normal folks will love it too.  Eco Fab's focus is "Bringing Green Mainstream". Whether it's form or function you're looking for, you'll find it here. Oh, and I almost forgot!  Eco Fab offers private shopping parties and fundraising events too.  Contact store manager April at 501.605.0197 for more information.
Eco Fab's Grand Opening begins Monday, November 8.  In celebration, you'll enjoy 10% off your entire purchase through the end of November.  Also, if you go, make sure you mention this blog post – it'll net you a free coffee! Eco Fab is open 10am-8pm Monday through Thursday, 10am-9am Friday & Saturday, and 12pm-6pm on Sunday.
And, last but not least, we have a giveaway! Eco Fab is providing a trio of three reusable special edition water bottles and three drinking straw lids for a lucky reader.  These are single wall stainless steel CynerGreen bottles in red, green, and blue. You'll need to go to the store to pick up your prize, so local entries only, please.
There are three different ways you can enter to win, so if you do all three items on the list, you've got three chances to win!
1. Leave a comment below with one earth-friendly thing you do at your house.
2. Like Eco Fab on Facebook and leave a comment below saying you did so.
3. Subscribe to my blog via RSS or email and leave a comment below saying you did so.
Entry deadline is midnight on Monday, November 8th.
No related posts.
Filed under: Go Green · Tags: Eco Fab Store, eco friendly, green, Metal Water Bottles, sustainable
© 2013 Instead of the Dishes