Instead of the Dishes » Featured, Mommyhood » When You're the Food Truck…
Here in Little Rock and in many cities across the country, Food Trucks are becoming more and more popular.  Apparently the concept of being able to get a quick meal at any given time, and sometimes in an unlikely location, is very appealing to folks in general.  These Food Trucks have to get a permit, and I think there are certain areas they're not allowed to go, but in general, they're out there tooling around, enjoying the city, giving people sustenance right out in the open.  People like it.  It's cool.  It's hip.
This same concept, however, does not seem to apply to new mothers and their babies.  Even though several laws have been passed to protect breast feeding moms and their babies, mothers are still harassed on a semi-regular basis.  Yesterday I read this article about a mother who was not permitted to nurse her child on a bench in the Smithsonian's art museum in Washington DC.  The mother had been told to go to the restroom, but when she got to the restroom, there was no where to sit.  It brought to mind my own memories of nursing at the Smithsonian.  It was a very cold day in December of 2006, and we were visiting the Museum of Natural History.  The restrooms there also did not have anywhere to sit down, and all the benches in the hallways were full of boisterous school children and tired grandparents.  So, we found an alcove on the second floor of the rotunda, overlooking the big elephant, and Craig stood over me to block out the throngs of people as best he could.  Luckily, no security guards were involved.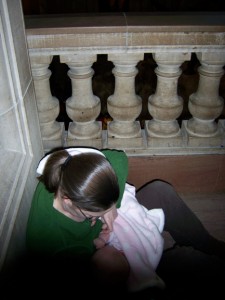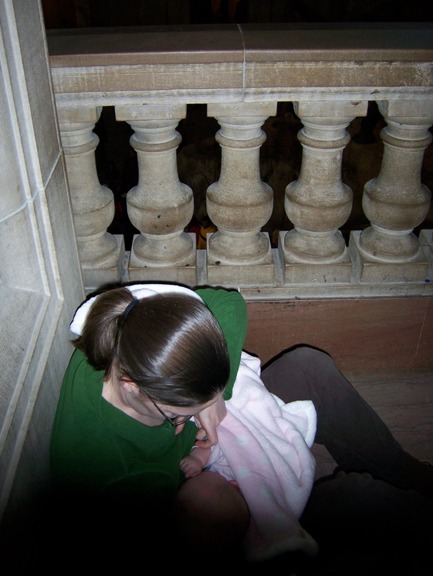 My cousin, Kate, a working mother in Chicago, also told me the story of how she had parked on a quiet road so she could pump on her lunch break. There was no where for her to pump at her job.  She had just gotten started when there was a knock on her window. Startled, she looked up, and was even more startled to see a police officer standing there!  Needless to say, he was embarrassed and apologetic, but basically had approached her simply because he thought it was odd that she was parked on the street by herself.
Other than the possibility of showing a little extra flesh, there's not much difference between a nursing mother and a food truck.  We've got our permit, in the form of federal law. We're feeding people who need their food on-demand in a quick and efficient way. I hope someday we're allowed to be as mainstream as Elaina's taquiera truck and Bubby's Hotdog cart are.
Filed under: Featured, Mommyhood · Tags: breast feeding in public