Instead of the Dishes » Garden, Go Green, Product Reviews » It's Spring. Time to make the Veggies!
Although temps have gotten down right chilly over the past few days, there are still plenty of signs that Spring is in full swing right outside our window.
Craig and the kids get all the credit for our front flower bed.  Meanwhile, mother nature has been at work too.  The trees are budding and blooming, the birds are singing, and the rains are keeping the creek babbling happily.  The woods behind the house are turning green again, and soon the foliage will obstruct the bothersome view of the houses behind ours.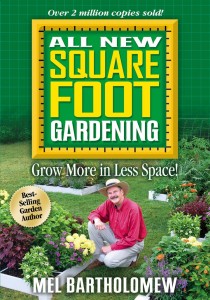 I've been working on a little outdoor project too.  The garden!  Last year was our first try at gardening, and while our success was questionable, we learned a lot and had fun. ("We" being the kids and I.)  When I blogged about our garden last year, my friend Julie left a comment recommending the book Square Foot Gardening.  Then, my friend Kim saw the comment and planted her own garden using the Square Food Gardening method.  Alas, I had already planted my garden, so it was too late for me.
But, this year I checked out Square Foot Gardening from the library and am implementing it in our little garden. (If you can't find it at your library, you can buy it at Barnes & Noble) The basic concept is that you break your garden up into 12 inch squares and plant each square separately.  The book is very detailed and easy to follow, including diagrams and illustrations to show you how to do it. Large plants like tomatoes and cucumbers are trained to grow vertically up trellis-type stands.  This allows you to grow more in less space, while spending less time on garden maintenance.  The plan is also great because it gives the kids the chance to work with a wider variety of plants. We'll see if we actually manage to harvest more veggies…
Square Foot Gardening really appeals to my type-a tendancies.  Everything in it's place! We spent about $60 on supplies, seeds, and plants.  I added our compost that we made last year and some plant food to the garden soil, and then used eye hooks screwed into the sides of the bed to run garden twine for my grid.  Craig made me a vertical stand for the tomatoes and cucumbers to grow up.
The kids and I have spent about 5 hours total planting seeds, plants, and flowers in the garden.  I'm anxious to see how this works!  I'm loving the concept so far.
Filed under: Garden, Go Green, Product Reviews · Tags: square foot gardening