Instead of the Dishes » Daily Deals, Homemaking, Mommyhood » Relish Meal Planning Review (and a deal)
Back in January I posted about a deal I got on Relish! meal planning. Now that my initial six month subscription is up, it's time for a review! (Also, at the bottom of this post there's a code to get 20% off a Relish! membership.)
Using the Site
Relish's philosophy is "A weekly menu planner aimed to help busy families put wonderful meals on the table every night. No sloppy casseroles or expensive kitchen blunders. Instead look for everyday food…with a gourmet twist."  I can whole-heartedly agree that the service lives up to their philosophy.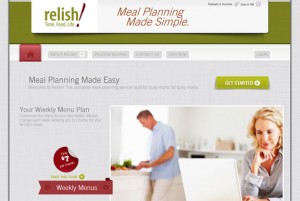 The web-based interface is very easy to use, and it's handy that you can access it from any computer.  Each week, new menu items are featured (usually around 10 different entrees) for you to build your weekly menu from.  However, you can also search the entire recipe database by ingredient or category (low fat, vegetarian, kid friendly, gluten free, lunch items, etc…)  There is also a separate list of recipes to choose from that are freezer-friendly.
Once you have chosen the meals that you want to make for the week, the Relish! interface builds a shopping list and the recipes with instructions in pdf format.  This is really nice, because you can save the PDF to your computer for future use.
Using the Meal Plan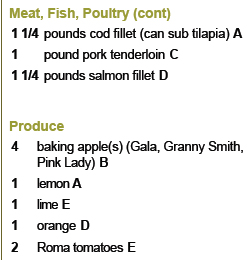 Each recipe is assigned a letter, and each ingredient is organized into categories and labeled with the letter of the recipe it is used in.  So, if you want to just shop for a couple meals at a time, you can easily see which ingredients you will need. I print just the shopping list page from the pdf and then cross off the items I already have.  Then, I use the coupon database at DealSeekingMom.com to match coupons to the items I need to buy.  This makes shopping easy and as frugal as possible.
Relish's recipes focus on fresh ingredients and healthy choices.  Each recipe is on a separate page of the pdf, so it's easy to just pull up the recipe on your computer screen and follow it from there.  The layout is very screen friendly, with the ingredient list on the left and the instructions on the right.  Most recipes only have five steps or fewer, and many of the entree recipes also include a side dish.
(I blurred this recipe because I don't want to violate copyright.  I just wanted to show you the layout!)
Personal Experience
My personal experience with using Relish! was very positive overall. Whether you are using a service or not, meal planning takes time and dedication. Relish! certainly saved some time and stress by taking the guess-work out of dinner, but I still had to train myself to be dedicated to planning and making the meals. The payoff was impressive, though.  My family liked almost every meal I made from Relish! recipes, and I loved the variety it brought to our dinners. I never would have challenged myself to make something like Spaghetti and Crispy Fried Parmesagn Balls, but when the recipe only has five steps and I already have all the ingredients, it was simple, fun, and yummy!
I do wish that Relish! had a "low carb" category in their entree database, but it was fairly easy to find low carb dishes in other categories. And because Relish! uses mostly fresh ingredients, I did see a slight increase in my grocery bill each week.  I am used to buying what's on sale and then planning meals based on what I have rather than planning first and buying what I need.  However, I think the minimal increase in cost was worth it when compared with the value of providing fresh, healthy meals to my family without the nightly stress of trying to piece together dinner.
There were a few times when I bought ingredients for a meal I ended up not cooking, so my advice would be to be conservative with the number of meals you select each week for your meal plan.  If you think you'll cook four meals a week, only buy ingredients for three meals at first.  That way nothing is wasted.
I will also admit that once the craziness of summer hit, it was very hard for me to plan meals, and for the past month or so, meal planning has gone completely by the wayside.  Now that we are getting back into a regular schedule with school, it's the perfect time to get back into the meal planning habit.
You can take 20% off a full membership for those of you who are interested in joining.  Just go here and enter the code INSTEAD to get your discount. This code will expire on March 1, 2014.
Disclosure: As of September 15, 2012, I am compensated as a Blog Ambassador by Relish!.  However I was not a Blog Ambassador at the time that I wrote this review, nor was I compensated in any way for writing it.  The content of the review has not been changed or revised in any way since I have become a Relish! Blog Ambassador.
Filed under: Daily Deals, Homemaking, Mommyhood · Tags: deal, dinner, Eversave, Meal Planning, Relish!, review, stress