Instead of the Dishes » Frugal Fawn, Spending Less » Christmas on a Budget: Pajamas
I love traditions, and I love pajamas, so it's no surprise to me that there are lots of families who have holiday traditions that involve pajamas!  One popular tradition I've seen is the practice of opening one present on Christmas Eve – pajamas for everyone!
But, pajamas are kind of expensive! Last year I snagged some winter pajamas at the end of the season on major clearance.  They'll make great gifts for the kids this year, since both of them are wildly enthusiastic about new pajamas.  The problem was I have three new pairs of PJs for Carina, and only one pair for Callen.  But, I'm also lucky enough that I get some great hand-me-downs from friends.  I found two more pairs of really cute, nearly new PJs for Callen in his big bin of hand-me-downs.  I don't think that he will care in the least that there are no tags on the PJs, especially since both pairs have monkeys on them. I'm not sure, but I think these came from my friend Meg.  So, thanks Meg!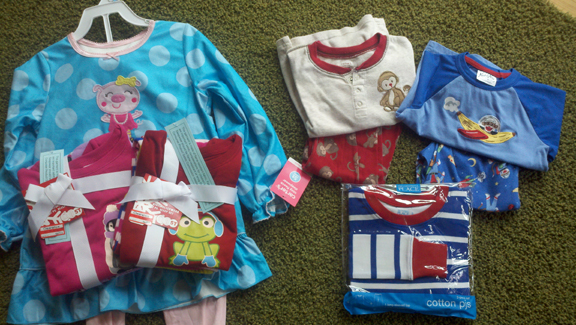 Pajamas are a great example of a gift that you can buy in a post-season sale and easily store away in the closet.  I recently read an article about gifting on a budget that pointed out that kids under the age of 10 don't think twice about whether their gifts come in a box or with tags attached, and I whole-heartedly agree with that.  When you have two or more kids, I think it's important to keep the number and type of gifts even, and I have no problem dipping into my existing resources to save money!
Do you have any holiday gift-giving traditions?
Other Posts in This Series:
Christmas on a Budget: Ebay
Christmas on a Budget: Easel Makeover
Christmas on a Budget: Consignment and Garage Sales
Filed under: Frugal Fawn, Spending Less · Tags: frugal gifts, gifts for kids, holiday gifts, pajamas