Instead of the Dishes » Around the House, Frugal Fawn, Go Green, Spending Less » Christmas on a Budget: Ebay
Earlier this fall, Callen was absolutely elated when he brought home a toy Astro Boy from the good behavior treasure box at school.  We have the Astro Boy movie on our DVR and he loves it.  He's been asking for months when he can have rocket boots like Astro Boy.
I was surprised when Callen came home with the Astro Boy from school, because the movie was made in 2009, and I hadn't even thought to look to see what merchandise there was. After looking around online, I didn't really find much, and the things that I did find were expensive because they are no longer in production and thus, are collectors items.  Then, I checked out eBay.
First, I found and purchased (or should I say won?) these little toys, which were originally in Burger King kids meals.  After shipping, I paid $14 for the whole crew.  I figure that's less than it would have cost me to buy five kids meals, so we'll call it a deal.  I saved money and calories.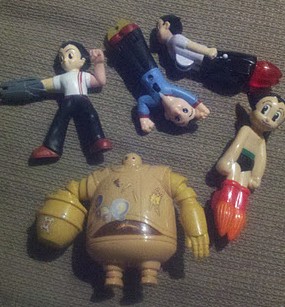 Then, I found this guy, and I couldn't help but bid on him.  I got him for $6.24, shipped.  He's pretty cool because all his outside parts come off to reveal the robot skeleton, and he's about eight inches tall.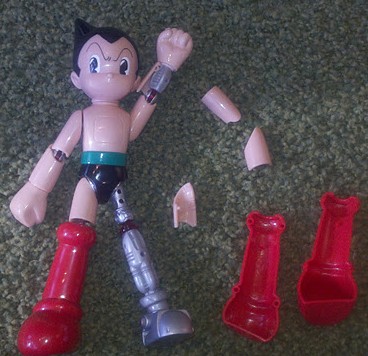 So, when you're searching for holiday gifts, especially those hard to find holiday gifts, don't forget to check eBay. I would not have been able to find these toys in any other store online at these prices, if at all. I know Callen will be thrilled to have them. And of course, I love the idea of "reusing" toys that others no longer want rather than introducing more new hunks of plastic into the world.
A word of caution when buying on eBay.  Please make sure you read the description of what you are bidding on and check the reviews of the seller.  While most of my eBay experiences have been positive, there are certainly some shifty characters on there.
Other Posts in This Series:
Christmas on a Budget: Pajamas
Christmas on a Budget: Easel Makeover
Christmas on a Budget: Consignment and Garage Sales
Filed under: Around the House, Frugal Fawn, Go Green, Spending Less · Tags: Astro Boy, budget, christmas, eBay, gifts