Instead of the Dishes » Around the Town, Frugal Fawn, Go Green, Spending Less » Christmas on a Budget: Consignment and Garage Sales
If you can embrace the concept of new-to-you gifts, consignment stores/sales and garage sales are a great place to score fantastic gifts at a fraction of the price.  As I mentioned before, I believe whole-heartedly that young kids could care less about the packaging that a gift comes in, so I'm not worried about the absence of boxes and price tags.  In fact, it's more eco-friendly to give gifts without all that extra packaging!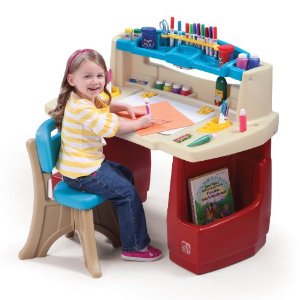 In addition to the $5 Easel that I bought at a consignment sale and used in my easel makeover project for my daughter, I also scored a nice art desk from a neighbor's garage sale for $10.  Both of these items retail for well over $50!  I'll have the extra cost of stocking both of these gifts with some new art supplies, but it certainly is easier to do with all the money I've saved on the desk and easel themselves.
My son's other "big" gift this year is a bigger bike, which I bought at a consignment sale last Spring for $10. I have had it stashed in the attic and nearly forgot that it was up there!
Consignment is also a great way to get your hands on smaller gifts as well.  In our area, toys sold at consignment sales have to have working batteries in them, so in addition to the great deals, you won't have to spend extra $$ on batteries!  I bought this fun dinosaur that stomps and roars for my three year old.  At another sale, I also scored a Melissa & Doug pirate puzzle for him, plus a Melissa & Doug magnetic chore chart for both kiddos.  Both were priced at 50% of retail.
Garage sales can turn up some fantastic treasures too.  Both of my kids have been interested in nerf guns for the past couple years, but I didn't want to buy them a gun.  But, I found these cute pig poppers (they shoot foam balls out of their noses) at a garage sale and thought they might meet the need for fun with projectiles.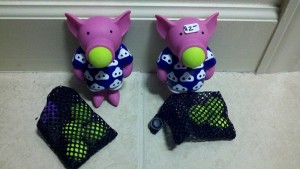 And finally, probably my most favorite garage sale find of the year was a big box of books that I bought for $10.  I divided the books into thirds – one third for my daughter, one third for my son, and one third that were books that were either too young or too old for my kids.  I gave away the "baby" books and put the older books up for later.  These are the books I pulled out to give my daughter for Christmas.  There's no way I could have gotten all these books for $10, and this is only 1/3 of the box!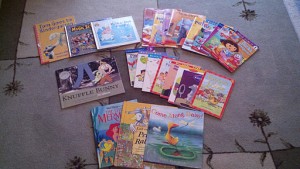 Shopping garage sales and consignment sales for gifts requires some planning ahead, but it definitely pays off.  Luckily, here in the mid-south, garage sales can be found nearly year-round, and there are a lot of estate sales that can yield good results as well.  If you want some help in finding garage sales, I recommend an app called Garage Sale Rover. It pulls in garage sale listings from Craigs List and other sources and shows them on a map.
How do you tailor your Holiday shopping to fit your budget?
Other Posts in This Series:
Christmas on a Budget: Pajamas
Christmas on a Budget: Easel Makeover
Christmas on a Budget: Ebay
Filed under: Around the Town, Frugal Fawn, Go Green, Spending Less · Tags: consignment, Garage, gifts, Sale, Savings, Shopping