Instead of the Dishes » Garden, Go Green, Product Reviews » Winter Gardening fun with the Gigglin' Garden Gang #GoGreenNGiggle #CBias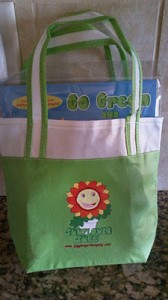 Teaching my kids about being responsible citizens and taking care of the environment is important to me, and one of the best tools I've found to do so is our little garden, which I've blogged about several times.  Now that it's winter, we miss playing in the dirt and watching things grow in our garden. Also, many of you readers as well as my local friends have voiced an interest in gardening with kids but don't have the resources to manage an full-blown garden.  This fun little project is an easy answer to both of those problems!
I was asked to review a gardening activity pack from the Gigglin' Garden Gang, a new company that is creating educational books and activities to help teach kids how to take care of the Earth.  The kit, which includes a full-color book, music CD, and the Gigglin' Garden Gang greenhouse, retails for $20. This price is comparable to what is currently on the market, although this kit is unique in that it includes a book and music. It isn't yet available for order on the Gigglin' Garden Gang's website, but it should be available this Spring. Our activity pack arrived in a cute little tote bag that is made from post-recycled material.  Inside the bag, we found the book, the greenhouse, and a CD.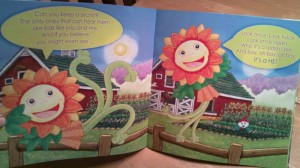 To review the product, first the kids and I sat down and read the book together.  The book, titled Go Green and Giggle!, is a nice size and has great illustrations. It is essentially an introduction to each of the characters that make up the Gigglin' Garden Gang, including Suzi Sunflower, Randy Radish, Queen Maizee (my five year old daughter's favorite), and many more, along with a crew of bugs(my three year old son's favorite).  You can get the idea from this video on the Gigglin' Garden Gang website.
As a writer and a frequent reader of Dr. Seuss, I found reading this book aloud to be a bit aggravating.  Some of the pages have text that rhymes and some don't, so there's really no rhythm.  Each of the characters in the book tells a garden-related joke.  Neither of my kids really got the jokes, although my daughter understood them once I explained them to her.  BUT, this product was not made for me, it was made for my kids, and they LOVED it!  After reading it only once, my five year old could recall most of the characters, and my three year old keeps asking me to read it again and again.  Since this book introduces the characters, I'm assuming the following books in the series will be more geared toward gardening and earth-friendly concepts. At least, that's what I hope.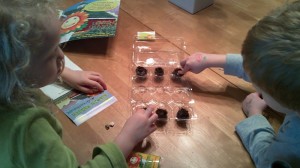 The seeds for the greenhouse kit are included in the back of the book, so it's a natural transition to the activity.  The greenhouse is made from recycled plastic and is shaped like an egg carton.  Inside, there are six "magic dirt pellets".  My kids were really excited to plant the seeds.  First we added water to the dirt pellets which made them swell up!  They took a lot more water than I expected, which is good since little hands are often more generous than intended.  Once our dirt had finished "growing" the kids pressed a seed down into each pod.  They loved being able to do this themselves, and I loved that the greenhouse kept the mess contained.  Once our seeds were planted, we moved the greenhouse to a windowsill to soak up what little sun we've had lately. Throughout the activity we talked about what plants need to grow, why we need plants, and what sunflowers are good for.  I love that the little greenhouse is recycled plastic and that we can reuse it to start other seeds after we transplant our sunflowers.
Once we finished our activity, I brought up the Gigglin' Garden Gang website on my computer.  We watched the three videos in the "gggTV" section, which the kids enjoyed.  I liked the Mindful Chef video, which talks about playing with your food as a fun, educational activity.  I'm hoping the site will add some more at-home activities to do, and perhaps some printable coloring sheets or worksheets for kids as they get closer to being fully functioning.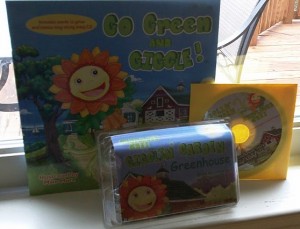 Finally, we listed to the audio CD in the car on the way to afternoon playdate.  There's a short intro Theme Song, and then a catchy "rap" song.  The last track on the CD is the rap song without any words so the kids can sing along.  I really liked this concept, but I think my kids will have to be a little older before they understand singing along when there are no words. Either way, we listed to the four tracks on the CD 5-6 times through before one of the kids finally asked me to turn on something else.
Overall, I would recommend this activity kit for families who don't have a "real" garden, as a homeschool activity, for early elementary classrooms, and for families who garden but want to revisit the concepts in the winter time.  I'm a firm believer that getting kids' hands into dirt is always a good thing, and this little kit lets you do it inside without any major fuss.
If you want to keep up with the Gigglin' Garden Gang you can visit Sunflower Suzi and Friends on Facebook and GoGreenNGiggle on Twitter.  You can also check out my Google+ photo album to see more pictures of my kids and I using the activity kit.
This shop has been compensated as part of a social shopper insights study for Collective Bias. All opinions are my own and all content was created solely by me.
Filed under: Garden, Go Green, Product Reviews · Tags: garden activity, Gigglin' Garden Gang, Go Green, Kids, kit, review