Instead of the Dishes » Guest Blogger, Not the Dishes » DIY Rocket Backpack
This is a guest post from my husband, Craig, whose boyhood dream is to be an astronaut.

With a pair of two liter bottles, a few backpack straps and some screws – you can build your child a do-it-yourself Mentos and Diet-Coke working jetpack.  I would advise doing this in an open field otherwise you will be retrieving your child from the neighbor's roof.
Conversely, here are the directions on how to build a pretend rocket backpack for any small child.  Spray plastic primer on a pair of empty two liter soda bottles.  They typically don't have this at Wal-Mart, but you can get it at Lowe's/Home Depot.  I screwed the bottles upside down into a cardboard box to keep them in place while I sprayed them.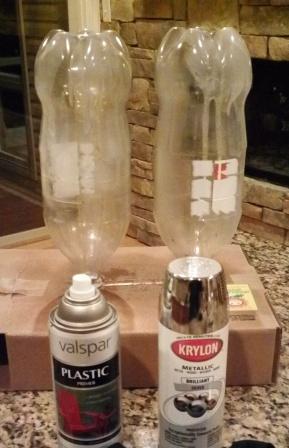 After the primer dried, I sprayed it with some high gloss silver spray paint.  I used the same spray paint to paint a thin square piece of wood.  I removed some backpack straps from a discarded kids backpack.  Then I lined up all the parts up, drilled some holes and screwed it all together.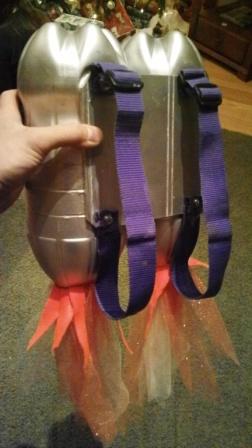 I cut off about four inches from the top of the bottles to make it look less like a pair of soda bottles.  And then attached some rocket flames made from scraps of orange felt and glitter tulle to the bolts inside the bottles.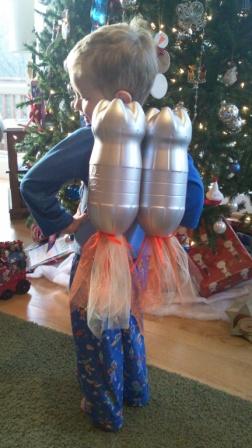 Total construction time (not including paint drying time):  1 hour.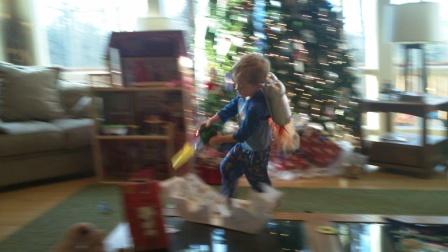 Total time child played with DIY Rocket Backpack:  3 minutes… awesome.
Acknowledgements:  I would like to thank our friends, Meredith N. and Anna R., for telling us that Callen "Totally needs this…" when they first saw the idea at http://pinnedit.blogspot.com/2011/09/jet-pack.html.
Filed under: Guest Blogger, Not the Dishes · Tags: DIY, Kids, Rocket Pack