Instead of the Dishes » Frugal Fawn, Spending Less » Free e-books from Amazon
Over the past couple weeks, my Facebook friend Carrie Hirmer has been sending me tons of links to download free e-books. I've been sharing them on the Instead of the Dishes Facebook page, and I thought I'd take a minute to share the links to them here. Several of the free books have gone back to their original price since I shared them on Facebook, so be sure you have liked Instead of the Dishes on Facebook so you won't miss out next time!
You don't have to have a Kindle reader to access these books.  There are Kindle apps available for PC, Mac, Tablet, and Phone!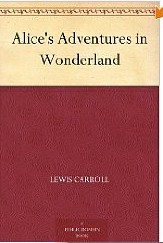 Alice's Adventures in Wonderland by Lewis Carrol
From Amazon: Source of legend and lyric, reference and conjecture, Alice's Adventures in Wonderlandis for most children pure pleasure in prose. While adults try to decipher Lewis Carroll's putative use of complex mathematical codes in the text, or debate his alleged use of opium, young readers simply dive with Alice through the rabbit hole, pursuing "The dream-child moving through a land / Of wonders wild and new." There they encounter the White Rabbit, the Queen of Hearts, the Mock Turtle, and the Mad Hatter, among a multitude of other characters–extinct, fantastical, and commonplace creatures. Alice journeys through this Wonderland, trying to fathom the meaning of her strange experiences.–Emilie Coulter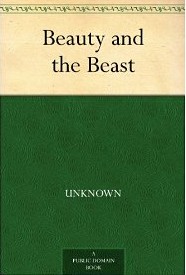 Beauty and the Beast by Unknown
Tale as old as time…this might be a fun one to check out in celebration of the Disney film of the same name hitting theaters this weekend in 3D! Includes color photos.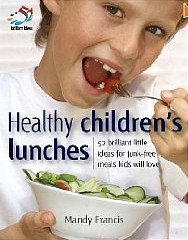 Healthy Children's Lunches by Mandy Francis
From Amazon: Whatever your children's personal food preferences, Mandy's advice and ideas will help you make sure that they get the best of both worlds and grow up with a healthy and balanced attitude to food – with a little inspiration from Healthy children's lunches you'll soon leave lunchtime-tantrums far behind!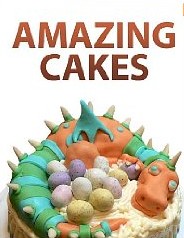 Amazing Cakes by the Instructables Authors
From Amazon: Amazing Cakes gives you full step-by-step instructions for 27 inspiring cake designs. Learn how to make 3-D cakes, animated Halloween cakes, and even a working volcano! All projects come from Instructables.com, are written by home cake-decorating experts, and contain pictures for each step so you can easily do it yourself. Be prepared to impress!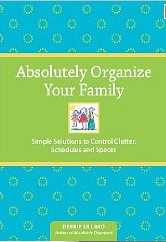 Absolutely Organize Your Family by Debbie Lillard
From Amazon: Managing a family is no easy task. There are school projects to supervise, a constant deluge of laundry and toys to deal with, and after-school activities to drive to every night. It makes you wish you had an instruction manual to help you keep it all together—well, now you do! Absolutely Organize Your Family is full of practical and effective solutions for all of your family's organizational challenges. Debbie Lillard, professional organizer, mother of three and author of the popular book Absolutely Organized, offers all new "Absolutes of Organizing Your Family" tips to help you gain and maintain order in three key areas of your family life: Schedules, belongings and spaces.
20 Decisions You Need to Make About Retirement Right Now by Ray LeVitre
From Amazon: Inside are twenty major financial decisions which could profoundly impact your lifestyle over the next forty years. For many retirees, these decisions come as a surprise and must be made hastily without proper consultation. But by reading the expert, commission-free advice in this book, you'll learn how to manage your assets and prepare for the best possible retirement.
Filed under: Frugal Fawn, Spending Less · Tags: Amazon, ebooks, Free, kindle