Instead of the Dishes » Featured, Health, Health & Fitness, Mommyhood » What a Penicillin Allergy Looks Like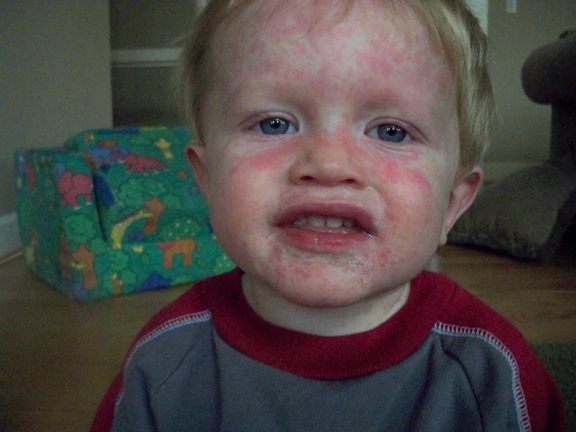 We discovered that our youngest is allergic to penicillin way back in 2009 after he took amoxicillin for an ear infection.  I posted about it on our family blog back then, but I thought it would be good info to share with all of you as well.  Essentially, he broke out in a hive rash, starting on his stomach and moving up to his head and out to his arms and legs.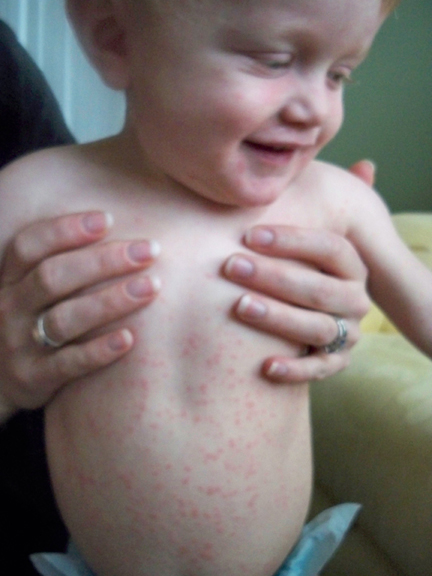 A trip to the doctor earned us a new medication for the ear infection without penicillin in it, a steroid to make the rash go away, and an antihistamine to help with the itchiness of the hives.  A couple days later, all within a couple hours, the hives suddenly turned purple and faded away, starting with his head and moving down his body.  Callen never seemed phased by it, other than the itchiness. Kids can have a stronger allergic reaction though, so if your kiddo is swelling up or having a hard time breathing, get to the doctor or hospital right away.
Ironically, after I had already scheduled this post, a friend sent me a text of her son with a similar rash and reported that he had just finished a 10 day round of amoxicillin for an ear infection.  "Surely he wouldn't just now be breaking out in a rash if he was allergic, right?" she asked.  Unfortunately, the answer is yes, it is possible.  Callen had actually been on one kind of antibiotic for 10 days for his ear infection. When we returned to the doctor for a re-check, he had a double ear infection, so they started him on the amoxicillin, and he was on that for another seven days before his reaction started.
Here's hoping you never have to use the info in this post!
Filed under: Featured, Health, Health & Fitness, Mommyhood · Tags: allergic, allergy, amoxicillin, hives, penicillin, rash, reaction