Instead of the Dishes » Frugal Fawn, Homemaking, Mommyhood, Spending Less » Make a List, Check it Twice, Save $5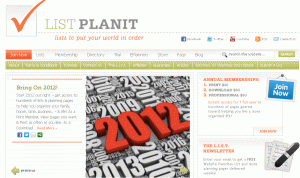 If you missed it when I wrote about it at the beginning of the year, your chance to save $5 on a ListPlanIt membership is back!    Membership includes access to over 700 lists in categories for home, school, business, and extracurricular planning.
ListPlanIt has three different types of memberships to pick from – print, download, or professional. The print membership (normally $20) allows you to print the lists as much as you want and write on them. The download membership (normally $30) allows you to type directly into the lists for a neater approach.  The professional membership (normally $50) is great for businesses who would like to offer the lists to their clients as part of their services.
Now through February 29th, you can save $5 off any of these three memberships by entering the code NEWYEAR12 at checkout.  It's a great way to get organized, set goals, and improve communication with the people you live and/or work with.
Filed under: Frugal Fawn, Homemaking, Mommyhood, Spending Less · Tags: business, discount, Homemaking, ListPlanIt, Lists, membership, planning