Instead of the Dishes » Around the House, Frugal Fawn, Go Green, Spending Less » Free Low-Flow Showerheads and Faucet Aerators for Centerpoint Customers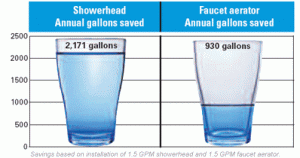 If you haven't yet taken advantage, be sure to head over to Centerpoint's website and take them up on their offer to provide up to 3 Low-Flow Showerheads and 3 faucet aerators FREE for customers. These little lovelies will save water and cut your gas bills.  Now that the warmer months when we take more showers are upon us, it's a great time to get started with this eco-friendly money saver.
We ordered ours and have been really happy with them. You can pick either a stainless or white finish to match your existing bathroom finishes. They were all really easy to install.  I don't notice the difference with the aerators being installed, and I actually like my new low-flow showerhead better than the one I previously had in my shower.  It's got plenty of water pressure, but it's very quiet (so I can hear what the kids are saying when they yell at me through the shower door).
Go Here to order your free low-flow shower heads and/or faucet aerators.
Filed under: Around the House, Frugal Fawn, Go Green, Spending Less · Tags: CenterPoint, eco friendly, free aerator, free low-flow showerhead, save money, save water, small change