Instead of the Dishes » Little RockPlayground Reviews » Playground Review: Two Rivers Park
Ok, yes, Two Rivers Park does not technically have a playground.  But, it is still a fantastic place to take the kids for some exercise and exploration.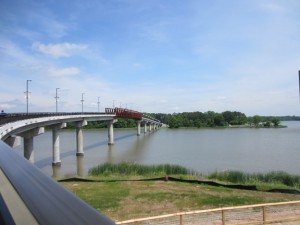 Address: Located north of Cantrell Road along the Arkansas River, there are two ways to access the park. Click here for a driving map. Our new favorite way to get to the park is via Two Rivers Bridge. Click Here for more info on the bridge and a link to a map.
Hours: The bridge is open 24 hours, but obviously I would not recommend taking your kids there after dark.
Equipment: None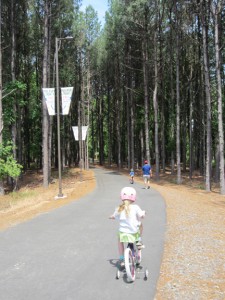 Setting: Natural – you'll likely see a host of wildlife ranging from butterflies and caterpillars to deer, geese, and maybe even a fox.
Shade: Partial
Surface: Paved trails.
Seating: Picnic tables
Restrooms/Water: Port-a-potties in the parking lots. Bring your own water!
Other Features: Paved Trails that wind through various natural settings – pine stands, deciduous forest, open fields, and riverside. Gardening tracts that are rented by county residents, and the 140 acre garden of trees.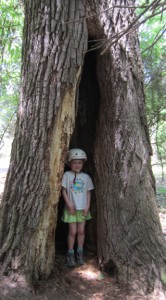 Comments:  Two Rivers Park and the new Two Rivers Bridge are a great place for a nature walk, for kids to ride bikes, or to enjoy a picnic. We recently took the bridge to the park and found that the shortest trail loop was perfect for our 4 & 5 year olds' bike riding skills (when you cross the bridge into the park, just keep taking the first left hand turns for this loop). There was a good mix of shade and sun, and a nice breeze thanks to the rivers. The kids had fun checking out some colorful caterpillars and a big hollow tree.  We've also been here in the evening and seen TONS of deer, turkey, and other wildlife.
Filed under: Little RockPlayground Reviews · Tags: Bike, Bridge, Kids, Park, review, Trail, Two Rivers