Instead of the Dishes » Mommyhood, Not the Dishes » Kid Craft: Paper Strawberries
I don't spend a ton of time doing crafts these days, but this year I've had to go back to my crafty roots a few times to satisfy my obligations as room mom in both the kids' classes. Luckily, the internet is around to help me use my powers for good.
So, on a search for a project that Carina's Kindergarten class could do for teacher appreciation week, I found this blog post with these adorable paper strawberries. Mrs. Jones' strawberries are all fancy and perfect, but I found that with a few adaptations, kids can do it too.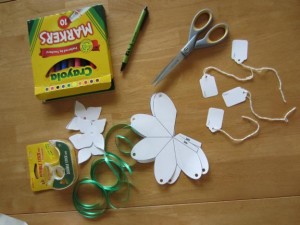 So, here's what you'll need:
The template, FREE from Oriental Trading Co.
White paper
Scissors
Hole Punch
Crayons, markers, stickers, or whatever else you want to decorate your strawberries with
Curling ribbon
String tags (optional)
Double sided tape, or a glue stick
Goodies to fill your strawberries with.  We used a variety of candies and cute stuff from the dollar bins at Michaels.
Process:
I printed the template out on regular white paper and pre-cut and hole punched where needed.
The kids "designed" the strawberry by decorating the side without the dotted lines.
I helped them fold it (the five and six year olds could do this on their own) and secure it with a glue stick. See instructions in the template PDF.
Each child picked what they wanted to fill their strawberry with from the goodie pile.
We used curling ribbon to close up the strawberry and attach the leaf "lid". I had to help almost everyone with this.
Each child wrote his/her name on a string tag with a little message, like "Thank you BERRY much!" and slid it onto the ribbon before we tied the bow on top.
For Carina's class, we had a total of 15 strawberries, so I found this basket in the closet and the cloth liner in a box full of "antique" linens I have. You can usually find tons of these old linens at flea markets, or you could just use a piece of pretty cloth.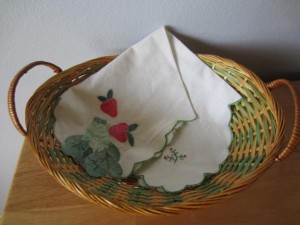 It took the class of 15 kindergartners and two adults about 45 minutes to complete this project.  The finished product has lots of personality and was a fun surprise for their teacher!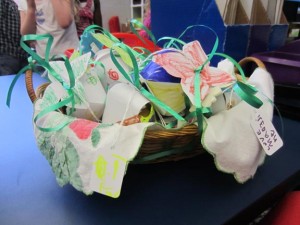 On a smaller scale, my four year old made four strawberries at home for his teachers at preschool (one for each teacher).  We paced ourselves and made one or two per day.  We got $5 Sonic gift cards to go with them. He was very proud of his work.
I think this project is not only great for teacher appreciation, but for end of the year gifts, party favors, or even for a grandma on mother's day from all the grandchildren.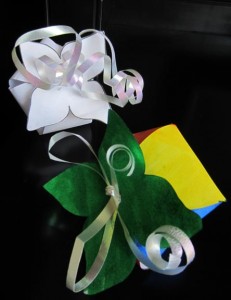 Filed under: Mommyhood, Not the Dishes · Tags: box, classroom, craft, gift, kid friendly, mother, paper, strawberry, teacher, thank you