Instead of the Dishes » Mommyhood » Happy Mother's Day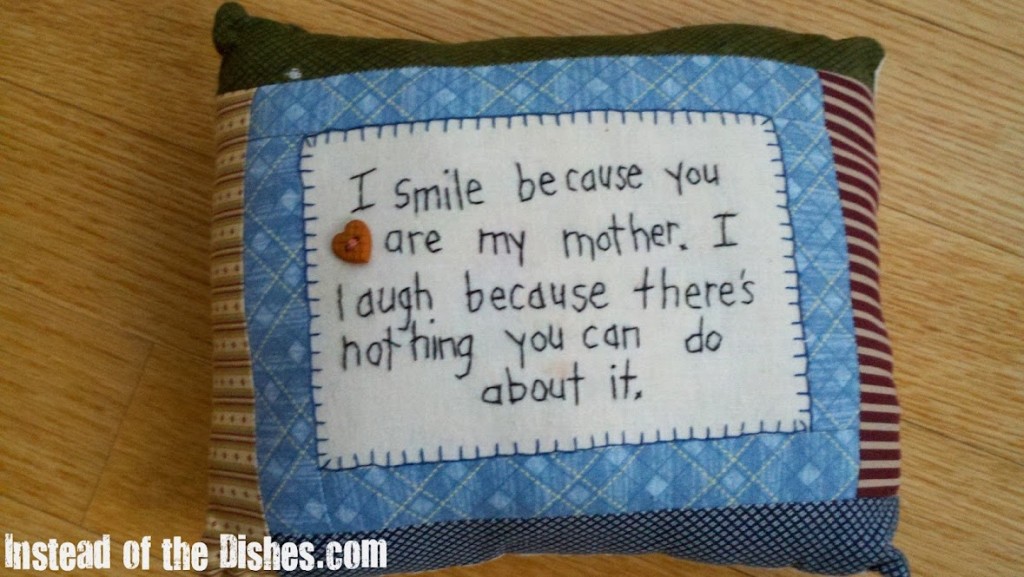 My Grandmother, Great, as the kids call her, gave my son this pillow a year or so ago.  It makes me laugh inside every time I look at it, because it's so appropriate, and because it came from Great. Great loves to shop at flea markets and yard sales.  A child of the Great Depression, she loves a bargain and she loves to collect treasures almost as much as she loves to share them.  I'm sure she didn't buy this pillow new, but she chose it from her collection of goodies to share with my three year old Callen. Even though Great parented a different set of kids in a different time period, she saw the humor in this little pillow and identified with it enough to buy it.
My Grandmother is the matriarch of my mother's huge family.  She keeps track of us, a running count of how many children, grandchildren, great grandchildren, and even a bevy of great great grandchildren.  I believe we number somewhere in the 80s. Whether you're born in or marry in, you're counted. Callen is number 67, I'm pretty sure, and there is not another kid in the whole family that this pillow would be more perfect for.  But, I'm sure that if I brought it to the next family reunion and passed it around, all the moms would have a reason to want to keep it.  That's the fantastic thing about motherhood. There's so much that we all have in common.  The "Sisterhood of Motherhood" transcends generations, socio-economics, geography, race, creed, religion, and any other boundary that normally keeps folks separated from one another.
This week's issue of TIME is getting a lot of buzz.  Essentially, it's a catalyst for creating a divide between mothers: the dos from the do nots; the I don't give a damns from the I am passionate about thises; the conservatives from the liberals.  Some Mother's Day gift.  I'm not impressed. At a time when we should be focusing on all the great things that unite us as mothers, it's sad to see a media outlet trying to drum up attention by stirring the pot.  I'm not a TIME reader.  Now I never will be, either. (If you haven't seen the issue of TIME I'm talking about, you'll have to find it yourself.  I'm not going to link to it because of what it is.)
My wish for you on this Mother's Day is that you take the opportunity to reach out to a fellow mother that might not share the same views or practices as you do.  Have the courage to try and open your mind and see things through her eyes. Let her know that you are glad that she's a mother and that you appreciate getting to experience her perspective.  As mothers, we can all learn from one another in some way.  Offer up the treasures from your collection, and you'll get so much more in return.
A special Happy Mother's Day wish goes out to Family members #1 (Great), #7 (My Mommo), and #27(ish) (My sis).
Filed under: Mommyhood · Tags: Grandma, motherhood, Mothers Day, Sisterhood