Instead of the Dishes » Frugal Fawn, Mommyhood, Product Reviews, Spending Less » 5 Free Smart Phone Apps for Busy Moms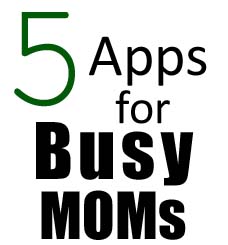 I've been the happy owner of a Motorola Droid smart phone for nearly two years now.  It's sort of funny to me that we call these little wonders smart PHONES, since I use the actual phone function way less than the apps.  So, I thought I'd share five apps with you that have made my life as a mom easier or better.
1. My Fitness Pal – This app is great if you are counting calories, tracking an exercise program, or both.  Enter your height, weight, activity level, and fitness goals, and My Fitness Pal will create a daily calorie goal for you.  Then, you can enter what you eat through the day, and the app will keep track of calories and other nutritional counts to help you make sure you are eating a balanced diet. It's been great for me because I have zero experience with counting calories and am not very good at keeping a food journal.  Having the app on my phone keeps it handy, and the best thing about it is that you can scan bar codes off of most foods to automatically enter them into your daily journal.  You can also enter different types of exercises and how long you exercised for, and the app will calculate how many calories you burned. There's a large community of My Fitness Pal users with an online forum, and a place in the app where you can link up with friends to encourage one another.
2. Zoodles Kid Mode – When I got my phone, I vowed I wouldn't download any games for me, but I knew that my kids would get their mitts on my phone eventually.  Luckily, I found this awesome app early on.  If you have more than one kiddo, you can set up an "account" within the app for each child.  You enter their age and Zoodles puts together a huge collection of age-appropriate games, music, and videos. There's also a section where the kids can create art, and an option to read stories via webcam that your kids can listen to whenever they want from within the app. The kids can't get out of kid mode on their own, but with so many different things to do within the one app, they don't ever try! You can opt in for a weekly email that shows your kid's activity on Zoodles. The report shows how much time they spent on each different type of activity and also shows thumbnails of any artwork they created.  As a parent you can also filter out characters you don't like (Dora?) or media types you don't want (Videos?). Almost everything in the collection is educational.
3. Qpon Revolution– this is a semi-local app, but grab it now if you are in Little Rock, Conway, Fayetteville AR or Springfield MO.  Markets are coming soon in Texas, Nashville, and St. Louis.  This fantastic app features coupons to local businesses right on your phone.  But it's not just those sissy-type $2 off coupons.
Usually you'll get a buy one get one deal or even something completely free.  Categories range from food to auto to health and beauty, and much more.  You simply activate the coupon right before you're ready to use it and show it at checkout.  Saving money, saving paper, and helping kids too – Qpon Revolution donates 10% of all profits to help kids with cancer.
4. Mint – I keep the books at our house, but my husband likes to know what is going on too.  An extension of the free online personal finance management tool by the same name, the Mint app gives us an at-a-glance look at our finances in real-time.  We also get email notifications when a large transaction occurs in any of our accounts or when an account balance gets low.  By linking up accounts online, we can see loan balances, house and car values, our credit ratings, checking and savings account transactions, budget status, and investment gains/losses all in one place. Mint uses the same encryption that banks use, so everything is safe and secure.
5. OvuView –  I found OvuView while I was looking for something to track symptoms when I was going through "withdrawl" from Yaz birth control.  The app is actually a fertility and ovulation tracker with the ability to track a myriad of girly symptoms.  You can configure the app differently based on what you need to use it for, whether it's to predict ovulation, as a birth control tool, or as a menstrual calendar.  After a few months of tracking your symptoms, the app does an excellent job of predicting your cycle stages.  You can also track patterns in symptoms like migraine, appetite, mood, energy, and more.  After being on bc for 15 years, I love this app as a menstrual calendar since I'm not in the habit of keeping good track myself. The app also pushes out a monthly reminder for a breast self-exam.  I also love the ability to track other symptoms to help with seeing patterns and connections to stages of my cycle. (sorry iPhone users – this is a DROID only app)
What are your favorite apps? Leave me a comment so I can check them out!
AND, if anyone out there can use this Car Mount for 1st generation Droids, I have one that I'm happy to ship out to you. I bought it for myself, but it doesn't fit my Droid X.  Just leave me a comment and let me know if you want it!
Filed under: Frugal Fawn, Mommyhood, Product Reviews, Spending Less · Tags: Mint, My Fitness Pal, OvuView, phone app, Qpon Revolution, smart phone, technology, Zoodles