Instead of the Dishes » Little RockPlayground Reviews » Playground Review: Allsopp Park
Allsopp Park is a large park located near the Hillcrest neighborhood in Little Rock.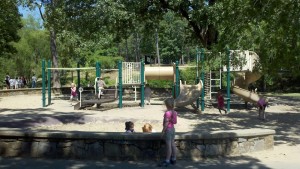 Address: Click Here for a Map
Hours: Dawn to Dusk
Equipment: Plastic & Metal.
1 Large Slide
2 Small slides
Monkey Bars
Stairs & Platforms
Climbing Bridge
Twisty Ladder
Tunnel
Climbing Ladder
Baby Swings
Big Kid Swings
Setting: City Park
Shade: Partial
Surface: Sand/Solid Rubber
Seating: Benches and Picnic Tables
Restrooms/Water: Yes
Other Features: Softball Field, Walking Trails, Creek, Tennis Courts, Pavillion
Comments: This is a pretty park with lots of spaces to explore.  I'm not a big fan of the sand that surrounds the playground, but my kids love it.  It just makes for a messy clean-up.  Bring your own buckets and shovels.
Filed under: Little RockPlayground Reviews · Tags: Allsopp, Park, playground, review