Instead of the Dishes » Mommyhood » Ooh La La! We have a Winner!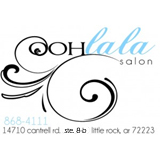 Congrats to Karen, the lucky winner of the haircut giveaway from April VanHorn at Ooh La La!
If you or someone you know is in need of some spiffing up, I highly recommend April.  You can book an appointment with her by calling Ooh La La at 501.868.4111 or email April at april_may24 at hotmail dot com. You can also like Ooh La La on Facebook.
Filed under: Mommyhood