Instead of the Dishes » Education, Homemaking, Mommyhood » Back to School: Our New Backpack Station
August 14th, 2012 | 7 Comments
I'll be the first to admit that mornings were quite rough on us last school year.  Callen is generally a happy morning person, but Carina and I are not.  Many mornings looked like this: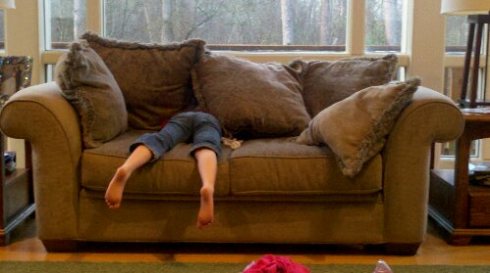 Mix a relatively early departure time with major procrastination (me, not the kids) and you have the perfect recipe for chaos.  I have vowed to avoid that this year.  I was given a magical miracle to help me with this – our morning departure time is an entire hour later than it was last year!  Aside from that, I knew that we needed a central location to house all our school related items – backpacks, lunchboxes, jackets, coats, papers and permission slips, teacher and coach contact information, schedules, and note writing supplies. But, it had to be pretty because the wall where I wanted to put all this was in the main living space of our house. So, I started to look around on Pinterest.
I found a nice Homework Message Center on the Delightful Order blog, but I didn't want to pay the big $$ for the message center prints she is selling in her Etsy shop.  And, I knew I needed more hooks, more storage, and probably a bigger calendar.
Then, I spied some wrought iron magazine racks that hubby had bought nearly five years ago and never installed.  Perfect for keeping school papers and folders!  (I think he got them at Michael's, but not sure…)
After shopping in local stores and not finding what I wanted, I found these wall hooks at Amazon.com for $10 each.
Finally, back on Pinterest, I found a weekly wall calendar project on the a thousand words blog that I love.  It was easy enough for even a non-scrapper like me, and after digging through my craft supplies, I found an untouched cache of scrapbooking paper that I had bought over five years ago along with a scrapbooking kit my cousin gave me when Carina was born.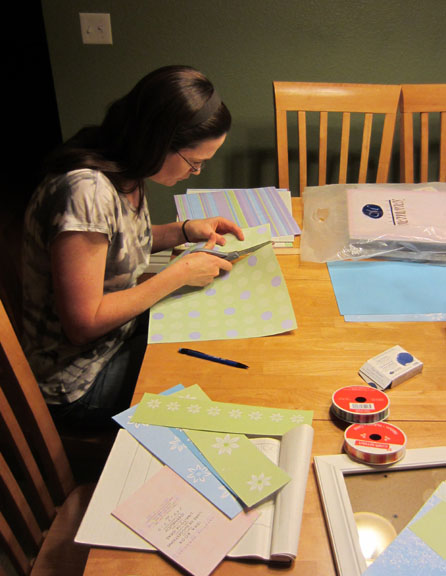 I measured the wall and sketched out my plan on grid paper.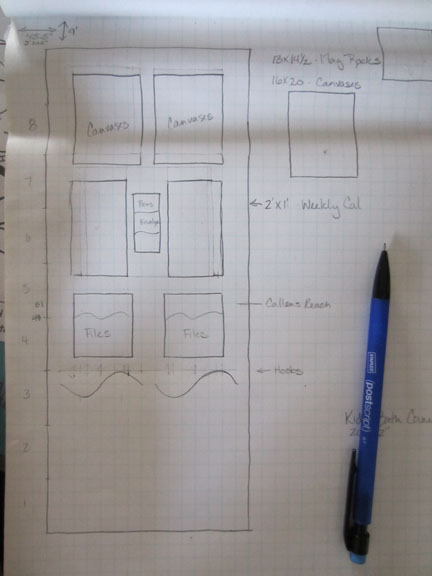 Then I put my favorite handy man to work installing the pieces on the wall. I'm not sure it was as challenging as he's making it look.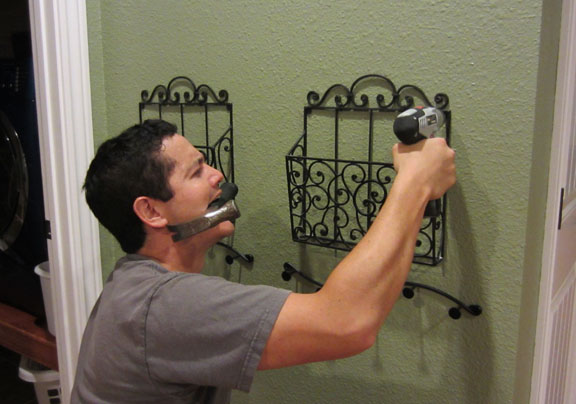 I was pretty happy with the weekly wall calendars once they were finished and hung up.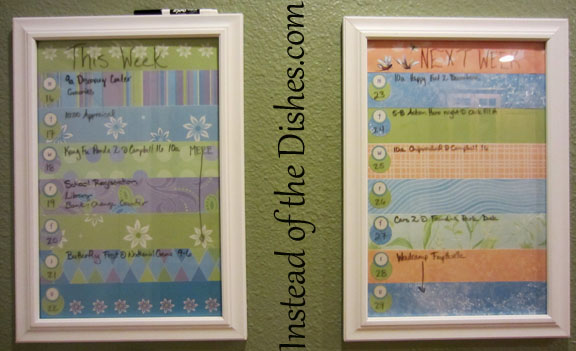 But, I realized that I needed somewhere to put the dry erase marker and supplies for sending notes to school.  Craig had also purchased two unfinished wooden mail holders when he bought the magazine racks five years ago.  So, I used some leftover ceiling paint to paint one white and then recruited Carina to help me modge podge some of the leftover scrapbook paper onto it.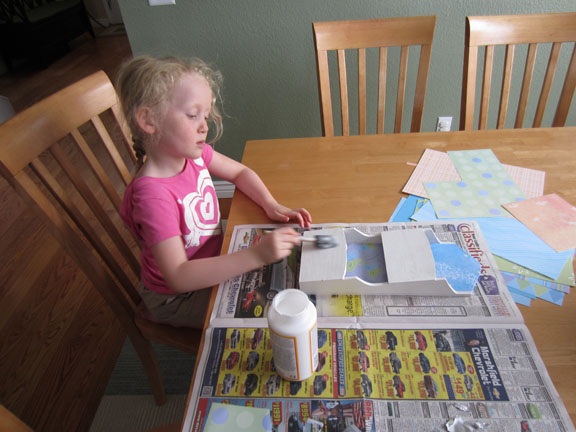 The finished project: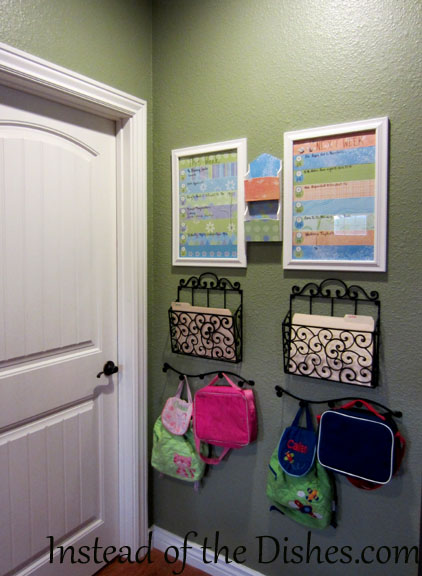 We have already begun using the backpack station – we're getting tons of use out of the wall calendar, and Carina's NEW backback is hanging there, stuffed full of school supplies.  I've filled the letter holder with dry erase markers, an eraser, envelopes, notecards, pens, and labels.  Bring it on morning rush!  We're ready!
Filed under: Education, Homemaking, Mommyhood · Tags: back to school, backpack, calendar, center, homework, message, school, station, wall, weekly
© 2018 Instead of the Dishes