Instead of the Dishes » Frugal Fawn, Homemaking, Mommyhood, Spending Less » Back to School Closet Organization (on the cheap)
One huge aspect of getting ready for school this year was closet organization.  I didn't need anything fancy.  Afterall, we're talking about kids' closets, and ours often look like this: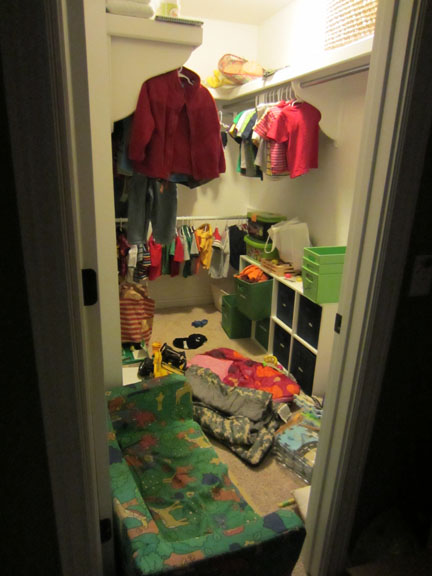 The picture above actually shows the closet organization project in progress. Craig added a low bar at the back of the closet where I hang "outfits" – one top and one bottom on a hanger together – for the kids to select from so that they have some freedom of choice and I know they are going to match. Plus, an adult doesn't have to be present in order for them to get dressed.  We also repurposed their bookshelves and toy storage cubes into "dressers" that are low enough for them to access socks, underwear, PJs, etc.  And who needs books and toys anyway?  (Kidding. The books and toys have found a new happy place.)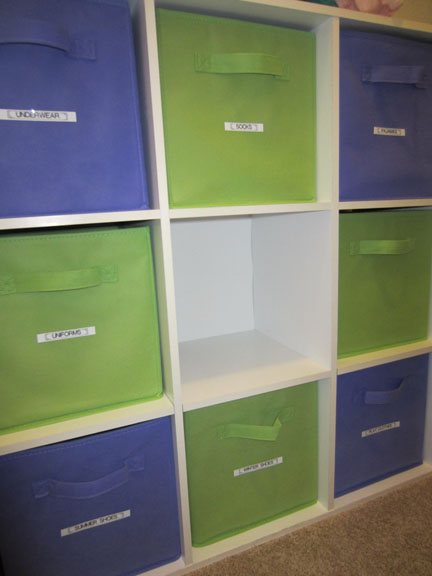 Our kids are both lucky enough to get lots of great hand-me-downs, and I've scored a few major hauls at yard sales and consignment sales.  So, they've got a lot of clothes in a wide range of sizes.  It's often difficult to keep track of what we already have and what we still need in each size.  Each child's bedroom has a ginormous closet, so I decided to take advantage of all that space by getting their clothes out of storage bins and onto the hanging rod where I could see them. I needed a way to keep track of what was what.  I knew I wanted to use dividers like you find in retail clothing stores, so I did a little search on Pinterest.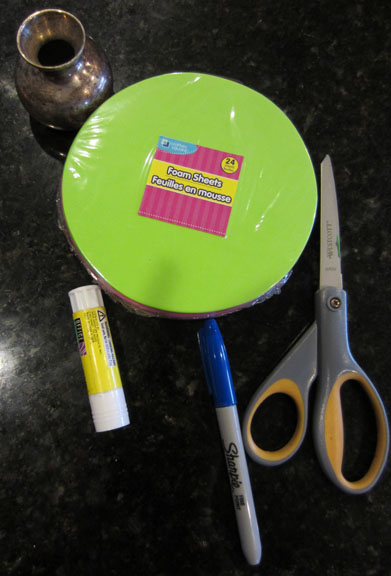 I did find a lot of DIY projects to make closet dividers, but many of them involved buying the expensive plastic dividers and/or using a cricut machine, and I'm just too cheap for either of those options.  Finally, I found Easy Kid Closet Dividers at the Gluesticks and Giggles blog.  This project still mentions a cricut machine, but using foam squares as a base is a great idea, and I figured I could wing it on the labeling.  Lucky me – on my next outing to the Dollar Tree, I found foam sheets already cut in a circle!  Hooray!  They came 24 to a package in multiple colors, for a total price of about 4 cents a piece! So, supplies for the closet rod dividers:
Round foam sheets (or square sheets that you can cut circles out of)
Glue stick
Scissors
Sharpie
something round that is about the same size as your closet rod (i used the mouth of  small vase)
Now I have to mention again that these dividers are not Pottery Barn look-alikes.  They're cheap (4 cents each), they're fast to make (about 2 minutes each), and they're reusable (read on to find out how).  They're dividers for kids' closets.  Function over form here, people.
Anyhow, so I started by pressing the mouth of a small vase into my stack of foam circles to make a cutting trail for the center hole.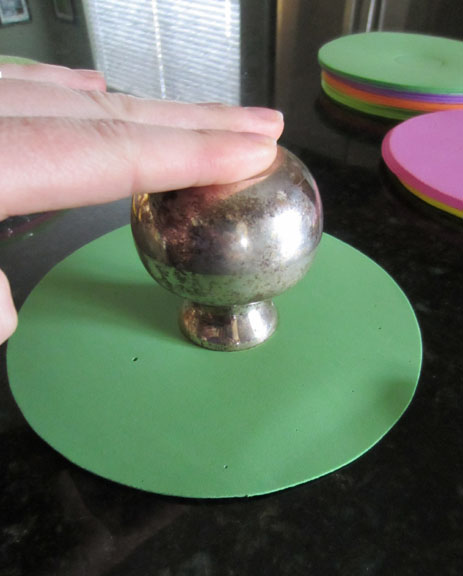 Then, I cut a slit from one side of the outside of the foam circle to the small circle in the center, and cut the small center circle out.  I used a sharpie to label my organizers, but you could use glitter or paint pens, stickers, etc.  I used the small circles that we had cut out of the center of each divider to write the size on. Then my little helper used a glue stick to glue the size onto the divider.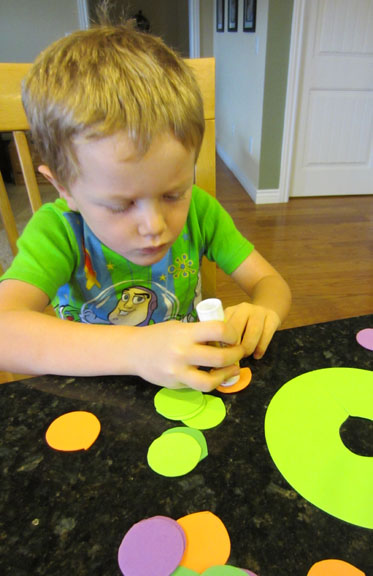 When a child grows out of that size, I can just peel the circle off and replace it with the next size I need.   It also allows for the size to be glued on either the left or right side of the divider, depending on which side of the closet the clothes hang on.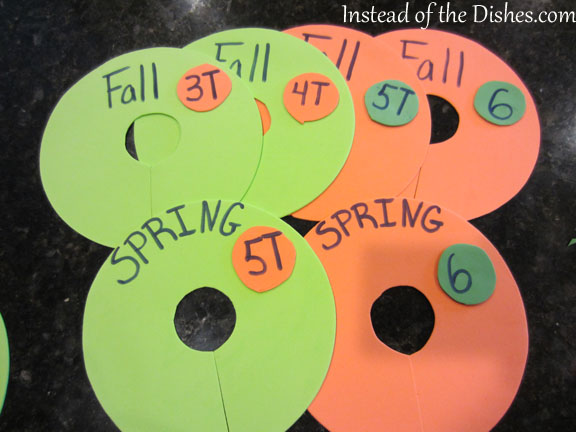 You could also cut the small circle into a shape to shnaz things up a bit.  I cut the size circles on my daughter's dividers into heart shapes.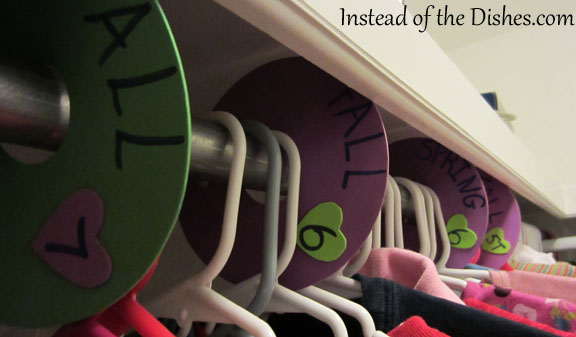 I also wanted to start the habit of having the kids pick out their clothes for the week each Sunday.  So, I made a divider for each day of the week for them.  Again, this gives them the freedom of choice, since they get to pick their clothes, and it avoids having to argue over what everyone is going to wear to school on a daily basis.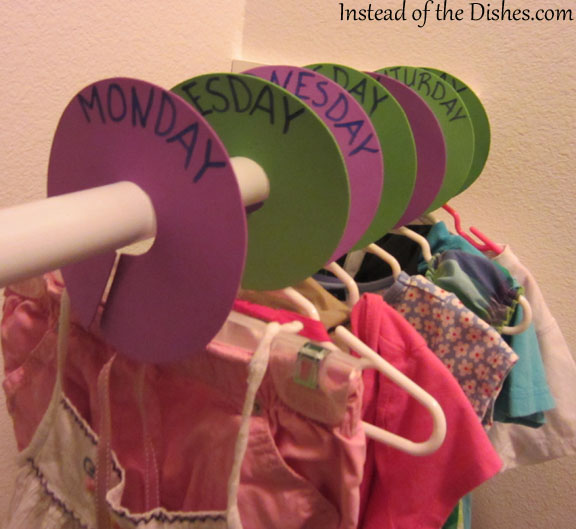 So, there you have it.  The clothes the kids are wearing now are organized by day of the week, and clothes they're going to grow into are organized by size and season.  This will make both the daily task of getting dressed as well as the seasonal task of clothes shopping less of a headache!
Filed under: Frugal Fawn, Homemaking, Mommyhood, Spending Less · Tags: back to school, child, closet, divider, DIY, Kids, organize, storage