Instead of the Dishes » Blogging Tips, Write & Blog » Lunch N Learn: Social Media Marketing Made Simple
August 30th, 2012 | 5 Comments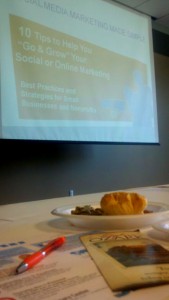 Today I'm live blogging from Ozark, MO at a Chamber of Commerce Lunch N Learn!
Presenter: Tara Rawlins, Owner @ Raw Marketing – @rawmarketingllc
Sponsored by Ozark Chamber of Commerce @ the Ozark Community Center
Tara is a Constant Contact Specialist.
Why do we market? Audience Answers: For more customers! To build our business! To keep the public informed. Recruit volunteers and donors, gain more time in the day!
14% of people trust ads, but 78% of people trust customer recommendations.
Social Media is building your network of fans and followers and connections by creating relevant content.
Concerns about social media? Audience Answers:  keeping up with it, overhwhelming, knowing what to put out there.
10 Tips for social media
1. Set Goals – keep your customers, improve customer service, increase relationships and referrals, build your network, gain customers, get feedback
2.. Know Your Audience – What makes your audience different? Ask your customers how they like to be communicated with. When do they use social media? What do they want to hear? How can you help them?
3. Monitor Your Online Brand – Can you be found online? What is being said about you and your competitors? Use this information to make your business better!
Search engines crawl social media sites and use it for SEO, so being active on social media will increase and improve your online presence and up your rank in the Google search results.
Create a Google Places page for your business.
Set up a Google Alert for your name and your business name.
4. Brand up – make sure you professionally brand your business or organization.
5. Listen, Learn, and Earn – pay attention to what other social media users are doing. Adapt best practices and avoid major mistakes. Let your customers help you, too.  Allow them to interact with your social media pages and help you sell your product/service
6. Manners Matter:
If you just sell, sell, sell, you will fail.  People don't want to hear a sales pitch. 70% of your time should be educating/informing, 10% of your time giving a "personal peak" into your life, and 20% selling.
Me, Me, Me will part the seas.  Don't spend all your time educating and informating about YOUR business.  Promote other (non-competing) businesses as well.
Give and You Shall Receive
Share, Care, and Be There
Reply, Thank, and Take Care of Negative Comments – deal with negative comments as an opportunity to showcase excellent customer service. don't delete it unless it is vulgar!
What Happens in Vegas Stays in Vegas – remember that what you put out there will be out there forever
First Impressions Make Lasting Impressions – think like a customer
7. Plan Ahead – Schedule your Social as an Appointment. Buy a calendar and plan out your social media marketing plan.  Write your good ideas on post it notes and put them on the calendar.  That makes it flexible. Check out Calendarlabs.com
8. Craft up Content – Sometimes less is more. You can also repurpose content from other areas:
FAQs
Articles
Google Alerts
Thought provoking discussions on topics that you have an expertise in, or just start a dialogue by asking a question
Relevant videos, photos, podcasts – 50% more likely to be clicked, liked, or shared on FB
Ask Questions, Post testimonials/polls/surveys
9. Grow Your Social –
Include your social links in your email signature
try an "email postcard" – short, sweet emails with links to your social. You can track which of your social platforms your email recipients go to the most
Add social icons to your website, newsletter, business card, printed materials, and other media (tv commercials?)
Let your customers grow your social – create share buttons on your newsletter/website.
Pay attention to when you are sending your newsletter and social updates and compare how many people are looking at them to figure out when the best time is to interact with most of your audience.
10. Manage your Social – Constant contact has nutshellmail.com that helps track all your social media activity.  Hootsuite.com is another great tool for scheduling and tracking your social media interactions.
Bonus: Measure your success – keep track of your increases in followers/likers, increases in sales, etc. Use different codes/coupons on different platforms to track which social media platform is working best for you.
Thank you to Tara and Ozark Chamber of Commerce for letting me live blog this lunch and learn! I was not compensated for (or even asked to write) this post in any way.
Filed under: Blogging Tips, Write & Blog · Tags: 10 tips, constant contact, marketing, Ozark Chamber, social media
© 2018 Instead of the Dishes