Instead of the Dishes » Education, Mommyhood » Why "Why?" Isn't So Bad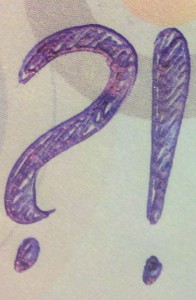 When Carina turned three and started asking, "Why, Why, Why?" about everything, I thought I was going to lose my mind.  Then she taught her 18 month old brother to say, "Why, Why, Why?". He didn't even know what Why meant.  This was the time in my life when I considered finding religion so that I could just credit God with everything.
Three years later, there aren't a lot of "Why?" questions around our house.  Before you congratulate me on making it through with my mind mostly intact, I have to tell you. It's worse.  NOW Carina is asking me things that I don't have the answers to again.  The difference is that I sort of feel like maybe I should know the answers to the things she is asking, what with my stint as the Education Director at the science center and all.  But I don't know the answers to most of these, at least not without the help of Google. Or, as Carina said, "Look it up on your phone. It is a SMART phone."  And then there are those that I do know the answer to, but struggle to put those answers into terms a six year old can understand. And somehow those six years I spent studying English seem all for naught.
So, if you've got a kiddo approaching six, here are some questions you might want to research so that you have an answer beyond "I don't know" or, "Because that's how God planned it".  I'm starting to see where those creationism people are coming from.
Kid: Who invented seeds?
You:  No one invented seeds. The plants make the seeds just like mommies make babies! (And then you think, "haha! one I can answer!"  But no…)
Kid: Well then where did the seeds that grew the very first plants in the world come from?
Kid: What did Dinosaurs evolve from?
You:                                                             (yes. That's stunned silence.)
Kid: When the people died, what did they wrap their bodies up in?
You: short pause while brain processes the fact that she is asking about mummies. Because, you know, halloween is coming…  "Oh, it was strips of cloth. Called muslin." (or was that Jesus?)
Kid: Did they wrap the men up that way too, so they could be mommies?
You: It's mummies.  And yes, most of the mummies that have been discovered were men, acutally.
Kid: If they're all men, why do they call them mommies?
Kid: Why did the monkeys decide to turn into humans?
Kid: When the first human baby was born, who took care of it since there were only monkeys around?
Kid: How did humans learn to speak human?
Kid: Do teeth grow from seeds? (If you don't know the answer to this one, do what I did – marry a dentist.)
Kid: What eats hummingbirds?
By the time you get the answers to these figured out, Carina will have a new batch thought up for you, so get to work!  I'm just going to sit here and come to terms with the fact that I'm already eating dust behind the credibility bus.
Filed under: Education, Mommyhood · Tags: ?, evolution, Kids, kids asking questions, science, Why