Instead of the Dishes » Education, Frugal Fawn, Health, Health & Fitness, Mommyhood » Got a Kid? Get a Book. Free.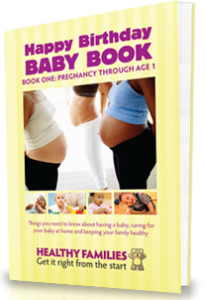 Healthy Families, a partner of the Arkansas Department of Human Services, has two free books for moms. They're collectively called the Happy Birthday Baby Books.  Book One covers pregancy through age one and book two covers newborn through age five.  If you're in Arkansas or Western Tennessee, you can order free hardcopies of the Happy Birthday Baby books. Anyone anywhere can download the free ebooks.
Sure, there are a lot of books out there that cover the care and feeding of pregnant mommas and their resulting offspring, but these books are different in three major ways:
1. They're small, about the size of two packs of playing cards. You could easily toss these treasures in your purse or diaper bag, and if you download the ebook version,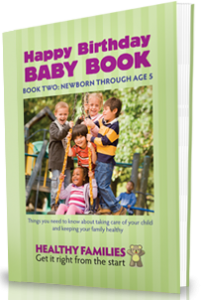 you won't be dealing with a ginormous PDF.
2. Small means concise.  These tiny tomes still pack a punch with the amount of information they contain, but instead of a full chapter on each milestone, you'll find bulleted lists and URLs for online resources.
3. They're free.  Free is always good.  So, order some copies to tuck in with your baby shower gifts or to put out at your kiddo's preschool.  If you're not in Arkansas or Tennessee, download the Happy Birthday Baby eBooks, and share the URL with your friends (http://healthyfamiliesnow.net/ebooks).
Filed under: Education, Frugal Fawn, Health, Health & Fitness, Mommyhood · Tags: Book, childcare, ebook, Free, healthy families, prenatal care