Instead of the Dishes » Homemaking, Not the Dishes » Football Party Food: Pull a Quarterback Sneak
October 23rd, 2012 | 2 Comments
There's a reason I don't blog about recipes or meals that I've put together very often.  I'm not particularly good at cooking.  Sure, give me a recipe or a meal plan, and I'm perfectly competent in following instructions, but you're not likely to see much originality coming out of my kitchen.
So, when we decided to invite some of the new families that we've met since moving to Ozark over for a Sunday afternoon of hob-nobbing and football watching, I decided to pull the Quarterback Sneak of menu planning. I pretty much stole my menu from other teams' playbooks. Luckily, I know lots of teams (bloggers) who DO love to blog about food, so it was easy to tackle my party food plans by scrambling in the back field.
First, my team's Center (Craig) is really good at grilling, so we decided to grill up some Petit Jean hot dogs.  Petit Jean Meats is an Arkansas-based company that is most well known for the ham and bacon. They were a sponsor at the Arkansas Women Bloggers Unplugged conference that I attended this summer, where I was surprised to see that they make hot dogs too!  When I got on the  Petit Jean Meats online store, I found that not only do they have hot dogs, but they also have sausages, bacon and cheddar stuffed hot dogs, and my favorite, the jumbo grillers.  So, we ordered a little of everything – a grilling sampler!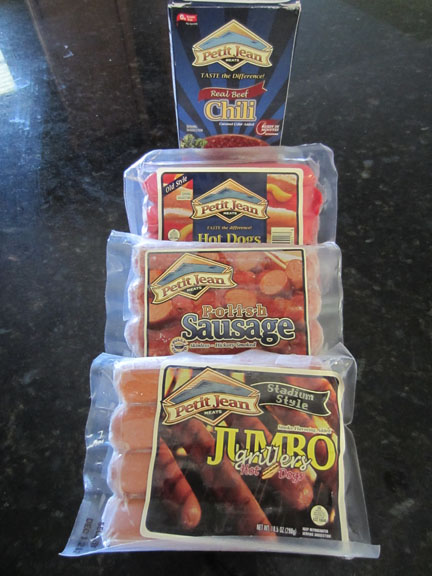 Now, for the sneaky part.  Just after we ordered our hot dogs, Allison Chino posted about a Fancy Hot Dog Party she hosted on her blog, Chino House.  I totally swiped her list of fantastic hot dog toppings.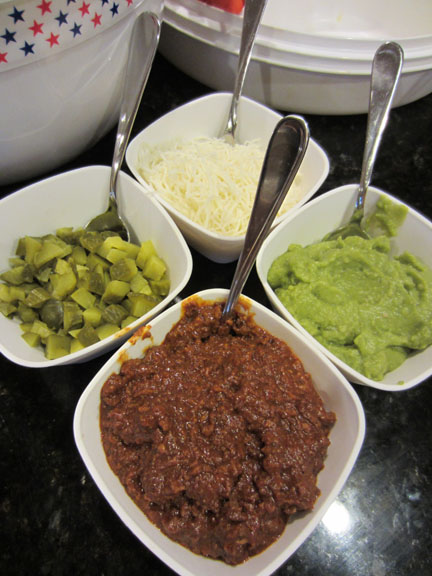 Our neighbor, Erin, had never had guacamole on a hot dog, but look at the masterpiece she built!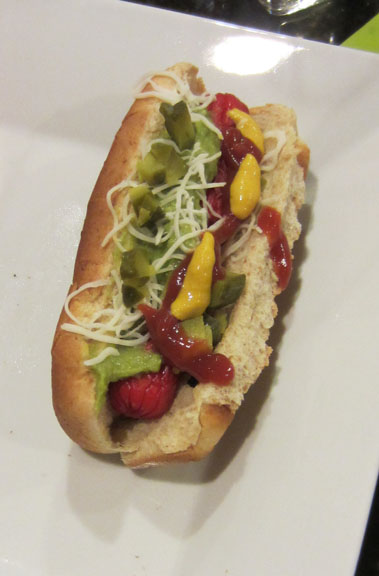 For an in-front-of-the-TV snack, I swiped another great recipe that I learned about at the Arkansas Women Bloggers Unplugged conference. Amy James, from Our Everyday Dinners calls it Woo Pig Sooie Snacks, but I call it Crack Popcorn.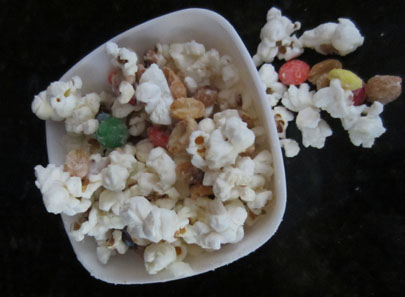 We rounded out our simple, kid-friendly menu with carrot sticks and fruit slices, and a meat and cheese tray featuring Petit Jean's new shelf stable Mossy Oak Summer Sausage.  Oh my goodness, that summer sausage is good!  It disappeared quickly!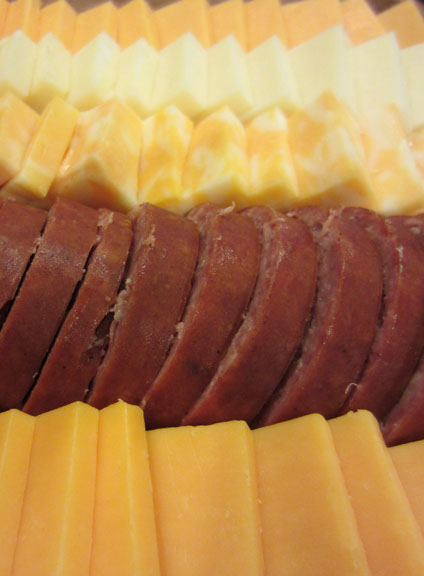 So, there you go.  You don't have to be a brilliant chef or the next Martha Stewart to host a fun football gathering.  Choose a theme and keep it casual, and then intercept passes from your favorite (foodie) quarterbacks!
Disclosure: I am a member of the Petit Jean Meats Blue Diamond Club ambassador program.  I received Petit Jean Meat products at no cost for our party.  All opinions and content in this post are my own.
Filed under: Homemaking, Not the Dishes · Tags: Football, Hot Dog, menu, Party, Petit Jean Meats
© 2018 Instead of the Dishes