Instead of the Dishes » 417 With Kids, Frugal Fawn, Shopping, Spending Less » Shop Small, Shop Local: Seven Ideas for Kids' Gifts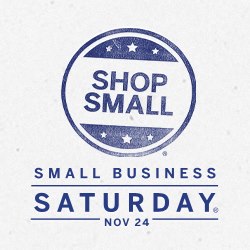 I wish that every shopping day was Small Business Saturday. Small businesses keep money in the local economy and provide income to your friends and neighbors who own these businesses. If you're prone to big box shopping, I hope you'll take tomorrow as an opportunity to try out something new and consider adopting it as a regular habit.
At our house, and in our extended families, we don't buy gifts for adults – only the kids. In our small town (and nearby larger city), unfortunately, there aren't any mom and pop toy stores. So, I thought I'd put together a list of local-type places where you can find kid and family-friendly gift ideas.
Consignment and Resale Shops – These stores are almost always locally owned and usually have both gently used clothes AND toys.  You also might find fun costumes, books, and cute locally made accessories (stocking stuffers?) like knit caps and hair bows.  In addition to saving $$, you'll also be helping the environment by not introducing yet another NEW plastic toy into the world.  Last year I scored a $5 easel at a consignment sale and fixed it up with a coat of paint. It's still one of the kids' favorite toys. Read about the Easel.
Classes or Lessons – You can almost always find local folks who offer art classes or guitar lessons out of their home or at the local church.  We also have a branch of the region's technical college in our town that offers fun classes for kids on topics like cooking and foreign languages. If you have a kiddo who is an enthusiastic learner,  a gift certificate for a block of classes could bring a big smile come Christmas morning.

Sports – If you've got a local park board, you could sign your favorite fishy up for swim lessons or some other sporty fun. Perhaps you've got a locally owned sporting goods store? Pick up a pair of goggles to accompany the gift certificate.

A Themed "Date" – Usually there's something fun in the town that you live in that you haven't seen or done.  Plan a themed "date" package around it! Do that activity, then eat at a local restaurant.
Spa or Salon  – Both my kids (a girl AND a boy) feel pretty special when they get to go to a "grown up" haircut place and get their hair washed, cut, AND styled. If you have a girly girl, she might like a manicure or a pedicure.
Museum/Zoo Memberships – If you live near a museum or zoo, a membership makes a nice gift. Many of these nonprofit attractions also have reciprocal programs, which allow you to get into museums or zoos of the same genre across the country for free. Check out the Association of Science and Technology Centers for a list of the science museums that take part in such a program.
The Hardware/Lumber/Garden/Farm Store – Most towns have at least one of these type of stores that is locally owned.  It may not seem a likely venue for kid gifts, but kids love tools, wood, and dirt.  My son will play with a tape measure for hours, and a mixed collection of nuts, bolts, and washers can make some interesting art or a sorting or stacking game.  Popular Mechanix has this list of 10 tools you should get for your kid (some things are for older kids).  These stores also carriy fun outdoorsy things like little garden tools, birdfeeders, and sleds.
Filed under: 417 With Kids, Frugal Fawn, Shopping, Spending Less · Tags: gifts for kids, Ideas, Local Business, Small Business, Small Business Saturday