Instead of the Dishes » Not the Dishes, Write & Blog » Ornament Exchange! #ARWB
This year the Arkansas Women Bloggers put together a fun hand-made ornament exchange among the member bloggers.  Even though I now live here in Missouri, they still let me play along!
I was tickled to be assigned The Park Wife as my ornament recipient.  She is my oldest and bestest blog buddy. (Not meaning she is old, meaning she is the first fellow blogger I made friends with.)  Anyhow, I tried my hand at some blog-inspired paperie and sent it along to her, feeling confident that she would overlook my shortcomings as a crafter.
THEN, much to my suprise, my package arrived on the day that we were supposed to send our ornaments out!  "Ah-ha," I thought to myself, "we have an over-achieving Santa here."  My surprise quickly turned to concern when I picked up the box and heard what sounded like lots of small pieces of something rolling around on the inside.  "Uh-oh."
I carefully opened the box, and was relieved to find a pretty wrapped package AND a ton of peppermints rolling around in there. "So, Santa is tricky too!"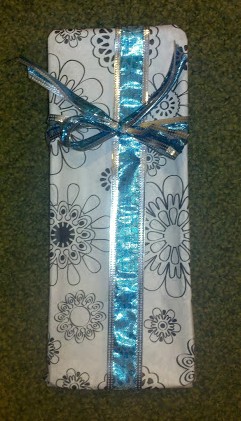 I opened the package to reveal these pretty glass ornaments that have all different shades of glitter on the inside.  These are perfect for our Christmas decor, as we don't really manage to stick to any one color scheme.  We are very Griswoldian around here.  I love all the color and sparkles.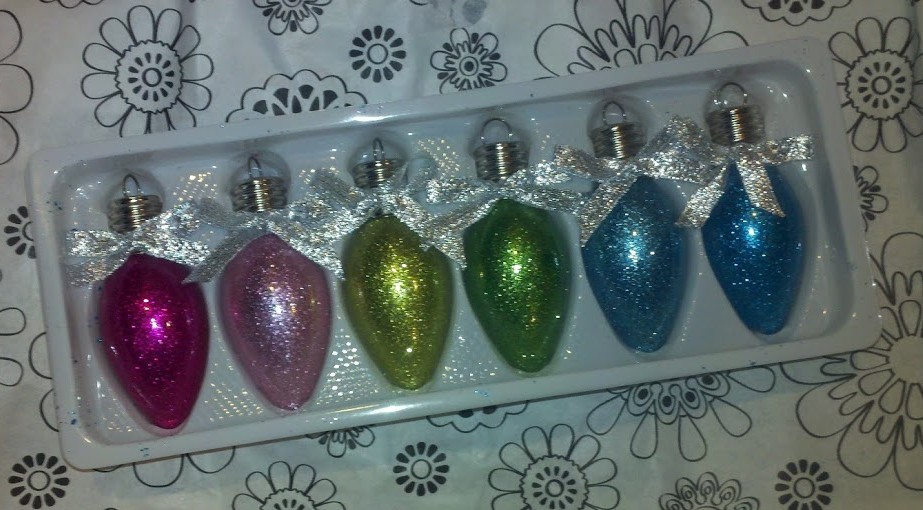 BUT! I still did not know who my Secret Santa is!  There was no note, and the shipping box came from a town I had never heard of, with a sender name of "Secret Santa".  Sneaky Indeed!
Finally, yesterday, Julie from Eggs and Herbs, who is the cool gal who coordinated the ornament swap, sent me an email to let me know who my Over-Achieving, Tricky, Sneaky Secret Santa is.  It's Cher from Studio C Designs!  I have never met Cher in real life, but I have marveled at her abilities to build and sew and remodel.  She is truly a handy woman, and I hope to meet her IRL soon!
Thanks for my awesome ornaments Cher!
If you want to see more of the handmade ornaments shared by the Arkansas Women Bloggers, check out the linky.
Filed under: Not the Dishes, Write & Blog · Tags: Arkansas Women Bloggers, exchange, handmade, ornament