Instead of the Dishes » Education, Frugal Fawn, Spending Less » Free Ebook and Game for LeapPad and Leapster Explorer
Do you have a LeapPad, LeapPad2, Leapster GS, or a Leapster Explorer wrapped up under the tree?  Or maybe your kiddos already have one of these tablets or gaming systems from Leap Frog?  Well, here are a few freebies for you.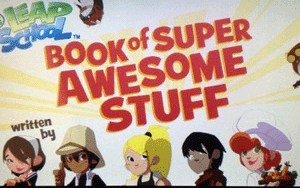 First, if you haven't already, grab the code for the Free Alphabet Soup game that I posted about last year.
Second, here's a code for a free Ebook, called "The Book of Super Awesome Stuff" by Leapschool:
               5813 1140 1518 1413
To download Alphabet Stew and the Super Awesome Stuff book to your Leapster or LeapPad for free, connect the unit to your computer.  When the Leap Frog connect interface comes up (you may have to install it from the Leapfrog Website if this is your first time using it), click on the "App Store" button.  Then, at the left, click on the big "Redeem Code" button and enter your codes (one at a time).
Third, I hadn't plugged our kids' Leapster Explorers into the computer for a while.  When I did it yesterday to add the free eBook, I was also prompted to pick out a new free app or ebook for each unit.  So, you might want to try that out too! (and don't forget to add pet supplies for your Leapster pet – my kids are always harassing me about that!)
And Finally, Leap Frog currently has a couple sales going on.  First, there's a coupon code for Buy 2 games, books, or accessories get one Free.  Use code SOLSTICE . Second, buy any three apps, get one free.  You can do this for up to four free apps. There is no code – it automatically gives you your cheapest app free at checkout. Both of these deals are good between now and January 14th.
All of the downloadable Leapster games and apps work on the LeapPads, so you can use them interchangeably.
Filed under: Education, Frugal Fawn, Spending Less · Tags: app, code, download, ebook, Free, game, Leap Frog, leaplet, LeapPad, Leapster