Instead of the Dishes » Guest Blogger, Mommyhood » My First Spring Break With a Minivan
Today's guest blogger, Heather Davis, is known for her witty humor and wisdom and you'll see why in her post.  I met Heather last year at the Arkansas Women Bloggers conference, even though she is from Oklahoma and I'm from Missouri.  Apparently we're both party crashers.
My younger daughter was born at the end of January, when it was really too cold to do anything but stay inside and cuddle up with a powder-y smelling baby and play games with a precocious two year old. It was the life.
My momma was over almost every day. I was grateful. She'd change the baby and watch endless hour of Dora with the toddler. I'd sit on the couch eating bon bons and flipping through People magazine. Not really, but I do know that I had it pretty good with my own momma coming over daily.
Unfortunately, it would all come to an end. I would have to return to teaching after spring break. My own momma would be watching my girls after spring break when I returned to my classroom full of high school freshmen waiting to learn about Shakespeare and Homer. In fact, I think she was looking forward to my going back to work so I'd be out of their hair. I'm pretty sure she had no faith in my parenting abilities and she couldn't wait to mold my children.
When spring break rolled around, however, she was scheduled for a cruise with her sister. Before she left, she made a menu and a grocery list for me and watched the girls so I could go get all I'd need for the week. She didn't want me to have to take two kids (one who would be confined to a carrier) out on my own. It was at that point that I put down my bon bons, dog-eared the magazine so I could read about the World's Most Beautiful Woman, Jennifer Lopez (in the days before she was J.Lo), and decided that I might be offended, if I didn't relish my own momma's help so much.
So, I waited until my mom was securely on a ship in the Gulf of Mexico and decided to venture to Hellmart with my two precious babies all by myself. I clicked the baby carrier in its base in the middle seat of my minivan. I maneuvered the five-point harness for my two-year-old, and then I slowly backed the van out of the garage and turned toward the super center. I wasn't sure what I was going to buy, but I was going just to prove it could be done.
"This is so much fun, momma!" my older daughter giggled as we cruised through our neighborhood.
"You bet it's fun, baby girl," I squealed back, the confidence in my voice bubbling over into returned giggles.
"I'm gonna tell Nana all about it!" she commented.
"That's right," I encouraged her, cockiness dripping from my voice, "You tell your nana what we're doing. It's fun, isn't it?"
"Yeah!" she giggled, "Nana never lets us drive with the doors open!"
So … maybe my momma had a point. Good thing we're a long way from the Gulf.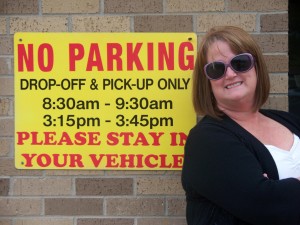 Heather Davis is a momma, an author, a humorist and a competent driver most of the time. She blogs at Minivan-Momma.com. Her first book, TMI Mom: Oversharing My Life, will be released on April 1, via Buzz Books USA.
Filed under: Guest Blogger, Mommyhood · Tags: Heather Davis, humor, Minivan Momma, motherhood