Instead of the Dishes » Fitness, Health & Fitness, Mommyhood » A Day of Reckoning
When I got up today, I weighed myself.  The scale said this: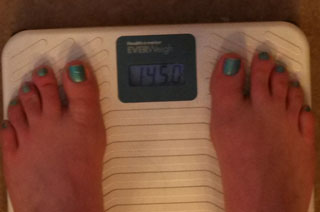 145 is a pretty "average" weight for me, but it hit me wrong this morning.  I thought about it a lot. The problem is that it's the most I've weighed in probably two years. The number has been inching up there. I've seen it coming.  I wouldn't mind to weigh this much if I was fit and strong. But, I also am very aware I am in the worst shape of my life. 145-and-flabby is very different from 145-and-fit.
Along the way to Callen's morning soccer game, we followed two school buses that turned off at the high school and reminded me that the sectional track meet was being held there today.  I mentioned it to the kids and when I explained, "You know, track and field, like you do on the Kinect", I had to promise that we would stop by to have a look after soccer.
At Callen's game, he fell and tore open a scab on his knee.  I ran to the car to get a band-aid.  Running always feels good, but I noticed parts of me jiggling that have never jiggled before.
Later, we arrived at the track meet just in time to watch the girls 4×800 relay go off. I sat on a grassy hill above the track with my kids and explained how the relay works and that mommy ran that race in high school. I was struck not only by nostalgia, but a sense of loss.  As I watched those girls spin around the track, I remembered exactly how strong I felt on each of those turns, and I realized how much I miss that strength and the ability to go fast with nothing but my feet.  I am under no delusion that I will ever be that strong or that fast again, but I want a 35-year-old version of it.
And when we finally got home from Carina's soccer games late this afternoon, I caught a corner of my new swimsuit sticking out of a dresser drawer.  It has a ruffled trim and a skirted bottom, and while I was pleased with its ability to cover and disguise when I bought it last week, today it suddenly made me think of this: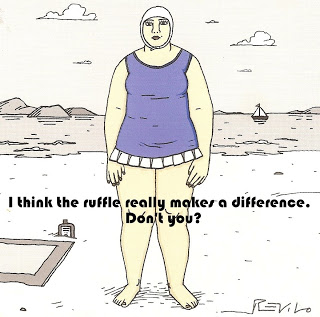 And so, I pushed the swim suit back into the drawer and pulled out some workout wear.  I really wanted to go for a run, but I'm home alone with the kids this weekend. So, I marched upstairs to turn on the Kinect to do a "getting back into it" workout with the My Fitness "game". . . And realized that husband had taken the xbox with him on his weekend "fishing trip". I started to get annoyed.  But, I was driven by the scale, and the jiggle, and the ruffles.  YouTube saved the day. I found Fitness Blender, which offers free workout routine videos with various themes and geared toward different abilities.  So, I did the Standing Abs Exercises (10 minutes) and the Crunchless Abs Workout (10 minutes) in the kitchen while the kids ate their dinner and cheered me on.  Carina even paid me a nice compliment by asking if the slim, athletic chick on the screen was me.  (Six year old logic – "Well, you both have ponytails.")
Tomorrow, if I can sit upright, I'll get back in the groove of using the My Fitness Pal app on my phone to track my diet's nutrients and calories. I'm thinking about doing another 3 day juice cleanse to get things rolling.  And I'll keep remembering what it feels like to be strong and fast, because that's a part of me that I've lost over the past few years – a part of me I really need to get back.
Disclosure: Just to be clear – there are no affiliate links in this post.
Filed under: Fitness, Health & Fitness, Mommyhood · Tags: fitness, motherhood, resources, work out