Instead of the Dishes » Education, Homemaking, Mommyhood » Back to School Prep
Today makes the start of the 7 day countdown til school starts!  I get just as excited about back to school as the kids do – I fully embrace the return to a set schedule and an increase in brain-expanding activities for everyone.  But, there's much to be done before the big day comes.  I thought I would share my back-to-school to-do list here.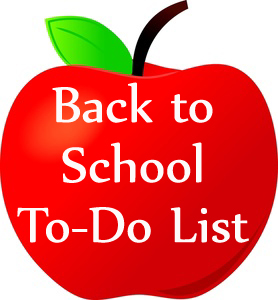 Purchase and pack up school supplies – I live in Wal-Mart country, but I refuse to shop at Wal-Mart.  A friend who was surprised when I told her this asked, "Where do you get stuff you need, like school supplies?"  This year I did all my school supply shopping at the grocery store (Dillons/Kroger) and Staples.  By using coupons and buying the items that were on sale each week, I saved a ton of money.  Another shopper even handed me a coupon for the anti-bac wipes I had to buy! *grin* I love coupon fairies.
Purchase a new outfit and shoes for each kiddo –

I get most of my kids' clothes from consignment sales and stores and hand-me-downs, but today we're going to go shopping for a brand new outfit for each of them. After the wet muddy mess of the summer, both of them will get a new pair of "school shoes" (sneakers) too.

Get back on a normal sleeping schedule – We're lucky in that school doesn't start until 8:45, but as I write this it is 8:15 and both of my children are still asleep. Tonight we'll return to our 7:30p bedtime and I'll start waking them up a little earlier each morning if needed until we get to our 7:20a wake-up time.  I actually started re-training myself first about a week ago so that we wouldn't all be groggy and crabby at the same time.
Schedule Doctor/Dental appointments – Both kids are due for 6 month dental checkups and Carina will be due for her yearly well-child check in September. I want to get these scheduled in now, before time slips away from me and we miss the target time frame.  And, now that my days will be more kid-free, I need to schedule these appointments for myself as well, plus a visit to the eye doctor.
Make Plans for Pick Day – Last year I wrote about Pick Day, which we created at the last minute – each kiddo got a day where they got to pick everything we did that day.  I need to figure out when those will be for each child and get them to start thinking about what we will do.
Get the Backpack Station Ready – Last year's big back-to-school project was creating a "launchpad" for all the kids' school things and extracurricular activities.  Now that it's been languishing all summer, it's time to get it back up and running. I need to clean out their folders, reset the calendars, and label the new backpacks, lunch boxes, jackets, etc.
Streamline the Lunch-Packing Process – I'm mining Pinterest and chatting with other moms about ways to make the lunch packing process more inventive, efficient, cost-effective, and consistent.  The kids ate way too many school lunches last year, so this is my big focus for this year. Let me know if you have tips or ideas!
Set a Schedule for Myself – Now that the kids are going to be at the same school on the same schedule, I want to make a solid schedule for myself.  I have 5 main "jobs" that I need to compartmentalize – our family business, my freelance and consulting work, blogging, PTA (I'm the volunteer coordinator this year!), and my domestic duties around the house (bleh).
Plan the Big Purge – It's hard to clean out toys when the kids are around, so I'm going to pick a day to devote to cleaning out their over-flowing toy boxes when they're in school.  Yes, I am an evil mommy.
So, that's my back-to-school to-do list.  What's on your list?
Filed under: Education, Homemaking, Mommyhood · Tags: back to school, get ready, prep, to-do list