Instead of the Dishes » Education, Mommyhood » 5 OTHER Reasons to Volunteer with PTA
Disclosure: I had already planned to write this blog post, and then I convinced VolunteerSpot.com to let me add the giveaway component to it. They provided me with a $50 DonorsChoose.org gift card for a separate project that I did for them, which I gifted to a classroom in another school district.  They also provided  the $50 DonorsChoose.org gift card that I'm giving away at the bottom of this post.
Now that school is back in session, I've started volunteering for PTA again.  Actually, I enjoyed it so much last year that they talked (suckered) me into being the Volunteer Coordinator this year.  So, I've spent some time thinking about what the perks are for volunteering at your kid's school.  Of course, everyone knows the obvious reasons, like helping teachers, improving the academic experience for everyone, and so on, and so forth.  But, I've also come up with five OTHER reasons why you should consider becoming a PTA volunteer.
There's a uniform.  Ok, there's not really a uniform, but most schools have "spirit wear" which is basically a t-shirt with the school's name/logo/mascot on it.  It's so nice to climb out of bed and not have to think about what to wear on the days I'm volunteering.  I just put on my spirit wear (hrrmm, the red shirt or the black shirt?) and go!
You meet people.  We were new at our school last year. While volunteering, I met lots of other moms and people from the community.  It was an easy way to feel less like a newbie, and it was easy to talk to most of these folks because we had guaranteed things in common – kids in the same school and a vested interest in making that school a great place. I also got to know some of my child's classmates.
It can provide brainless quiet time.  Ok, so working the cotton candy machine at the fall festival turned out to be sooo not brainless.  But, when I work at school during the day making copies and cutting triangles out of construction paper, it gives me a dedicated block of time for quiet.  No cell phone, no laptop.  Just me and my thoughts.
Get to know the teachers.  I'm not talking about creating friendships, because hey, they're super busy working.  But, I've enjoyed learning which teacher teaches what. Of course I tend to pay close attention to the grade levels my children are in and the one they will move up to the following year.  I don't mean to sound like a hover parent, but I like having a basic idea of what a teacher's personality is like without having to rely on my children to paint the picture. (Because then all the teachers would be "fine".)
See what kids are learning in the classroom.  When I walk the hallways, I see artwork and writing projects that I wouldn't otherwise know about. I get a sneak peek of the 3rd grade music program when they practice in the gym.  When I make copies, I find out that my kindergartener will be reading Pete the Cat: I love My White Shoes. I even get ideas for activities to do at home!
Helping out the teachers and staff is really only the tip of the iceberg when you consider the benefits of getting involved at your child's school.  Even if you work you can help at evening events or do "take home" projects on weekends. No matter how you pitch in, every little bit helps.  Oh, and your kid will be really proud of you too.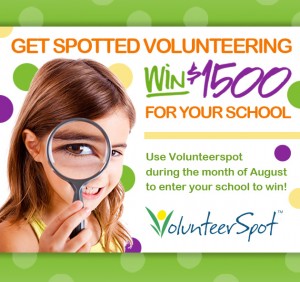 One easy way to get started is to pledge to volunteer for your child's school this year at VolunteerSpot.com.  Just by taking the pledge, you will be able to enter to win $1500 for your school! VolunteerSpot is a free online volunteer management tool that schools across the country use (I use it to coordinate the volunteers at my school). Pledge to Volunteer at school this year and your school could win $1500 from VolunteerSpot! (3 schools will win!) Click HERE to pledge now!

AND you can also enter to win a $50 gift card from DonorsChoose.org.  DonorsChoose.org is a website that allows you to pick specific classroom projects to fund, such as establishing a classroom library or purchasing needed science supplies. It's a great way to make a huge impact in schools that need the most help.  So, the winner will win a $50 gift card to apply to any of the classroom projects listed in the Donors Choose database.  To enter, simply scroll down and leave a comment below with something related to back-to-school, volunteering, or funding classroom projects.  I'll randomly select a winner from the comments on Thursday, September 12th.
Filed under: Education, Mommyhood · Tags: DonorsChoose, giveaway, PTA, reasons, volunteer, VolunteerSpot