Instead of the Dishes » 417 With Kids, Around the Town, Frugal Fawn, Go Green, Shopping » Gifts that Feel Good #2: Gifts that Give Twice
November 30th, 2013 | 5 Comments
In the first post in this Gifts that Feel Good series, I mentioned that I had the chance to go listen to the founder of TOMS Shoes speak. If you aren't familiar with the TOMS Shoes story, founder Blake Mycoskie started the for-profit company on a simple premise: for each pair of shoes he sells, he gives a pair to a child in need. Now, there are many companies that are set up this way. Shopping with these companies is a great way to give in a way that gives twice.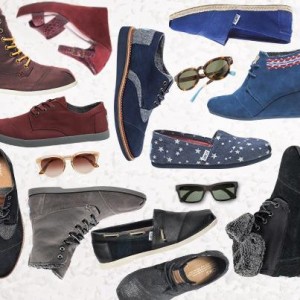 TOMS
TOMS is known for their comfy canvas shoes which come in fun prints and solids and sizes for infants through adults. However, TOMS has now expanded their shoe model to eyewear.  For each pair of sunglasses they sell, a blind person will receive the prescription eyeglasses, cataract surgery, or medical treatment needed to restore their sight. Both of these programs are at work in countries around the world and here in the US. I know two little kiddos who are going to be so excited when they score their first pair of TOMS this Christmas!
You'll get free shipping on any TOMS branded merchandise through January 27th (combines with above offer)
For $10 off a $50 purchase and free shipping, use code THANKFUL13 through December 2nd (Hurry!)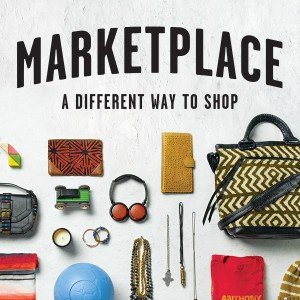 The Marketplace
In addition to that, the TOMS website now includes The Marketplace, which features 200 products from several different companies that benefit people in countries around the world (including the US). The Marketplace is a great place to nab a wide range of gifts that give twice – there are kids' toys, apparel, accessories, home goods, and more. You'll also have the opportunity to familiarize yourself with more businesses who are using the social good model to make a difference in our world.
You can get free shipping on any Marketplace order of $65 or more through December 6th (no code needed).
Save $10 off $75 in The Marketplace with code TOMSMP2LGD653FHV. (I think that this is a unique one-time use code, so if  you successfully use it, please leave a comment to let me know so that I can take it off of this post – I was given this coupon code at a TOMS event.)
Five Pound Apparel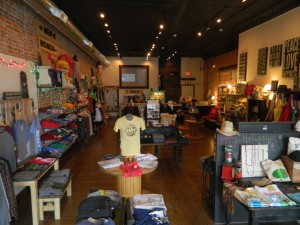 Here in Southwest Missouri, you can shop locally and get your hands on TOMS shoes and sunglasses as well as many of the products found in The Marketplace, PLUS some Awesome Missouri-themed apparel.  Let me tell you about my new favorite store in downtown Springfield – It's called Five Pound Apparel. The store gets its name from the fact that for every one of their exclusive t-shirts that they sell, they donate five pounds of food to a malnourished child in need. Five Pound Apparel also sells gifts, jewelry, eco-friendly products, and homegoods. They do carry a few product lines that do not have a giving component built in, but they donate a portion of the proceeds from the sale of these items as well.
You can also shop Five Pound Apparel online. According to their Facebook Page, they are offering 25% off any purchase online with the coupon code "BlackFriday" through Monday.
Another little hint – if you visit the Five Pound Apparel Facebook Page and click the "Advocate Program" button below the banner image, you can sign up for their email list.  You'll also immediately receive an email with a coupon for $5 off a $25 purchase that you can use either online or in-store.
Giving gifts feels good. Giving gifts that give twice feels twice as good!  I hope this posts helps you enjoy your gift giving twice as much!
Filed under: 417 With Kids, Around the Town, Frugal Fawn, Go Green, Shopping · Tags: charitable, fair trade, Five Pound Apparel, gifts, Give Back, Marketplace, social good, Springfield, TOMS
© 2018 Instead of the Dishes