Instead of the Dishes » 417 With Kids, Missouri, Travel, Weekend Getaways » Winter Weekend Getaway: Grand Country Resort in Branson
It's often hard to find somewhere fun to go for a weekend getaway in the winter.  Warm climates are too far of a drive, so we look for a location that has lots of indoor activities for our family.  While researching indoor waterparks in Branson, Missouri, I came across Grand Country Resort's Summer Fun in the Winter package. From January 1 through the first week in March, the package costs $199.32 after tax and includes: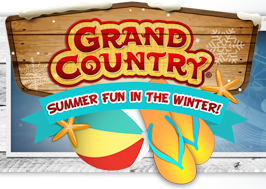 2 nights of lodging
Indoor Waterpark passes
Tickets to two music shows
18 holes of black light mini golf
$10 swipe card for the Fun Spot
2 Large 1 topping pizzas.
Complimentary water, tea, and coffee at various locations throughout the resort.
This was our family's first visit to Grand Country Resort.  Overall we found the visit to be a great, budget-friendly weekend that kept our family entertained. You can see the schedule of our Grand Country weekend on my MiniTime site. Here are my more detailed thoughts on the components of the package, in order or appearance:
Grand Country Inn
The Inn is classified as a 3 star lodging, but I would say that's pushing it.  I would rank it more as a two star.  All rooms have exterior access, which means lots of noise from people walking by outside.  Our room was clean and appeared to have relatively new carpet, but the furniture was outdated and Craig immediately noticed that there was no decor.  However, the beds were fairly comfortable and I appreciated that there was a variety of pillows on each bed.  The room was spacious enough to not feel cramped with the four of us and our bags.  Coffee maker, iron/ironing board, hairdryer, and soap/lotion/shampoo were all available in our room.
Fun Spot and Mini Golf
The Fun Spot is a separate building on the resort campus that houses an arcade, play gym, Papa Grand's Pizza, Laser Tag, and two mini-golf courses. We played the black light mini golf that was included in our package first. The course was relatively easy and the river town themed black light scenes also helped to hold the kids' attention – definitely one of the more unique mini golf courses I've ever played.  It took us about an hour to play the 18 hole course, including one bathroom break.
Next, we went downstairs to use our $10 swipe card at the arcade.  The gentleman behind the counter was nice enough to give me two $5 cards so that each kiddo would have their own card to spend.  Some games dispense tickets that can be turned in for prizes.  The kids found the laser maze was just as fun to play in the free "demo mode" as it was to actually pay the three dollars to do it.
By this point, it was nearing 10pm and we were exhausted after a full day of work/school, travel, and fun.  We opted out of the Fun Spot Family Party that happened on both Friday and Saturday night of our stay.  It is a free party that includes music, party favors, popcorn, and cake, plus a balloon drop with prizes.  The party runs from 10pm to 11:30pm, with the balloon drop at 11pm.  I can't say for sure since we didn't go, but this might be a fun added feature for families with older or less-tired kids.
Splash Country Waterpark
The waterpark is probably the most well-known attraction at Grand Country Resort.  The park's hours vary during the winter time, but it opened at 10am on Saturday morning when we were there.  After a quick breakfast in our room (we packed granola bars, apples, and dried fruit to save some $ on snacks and morning meals), we walked across the parking lot to Splash Country just as it opened. As the morning went on, it got a little busier, but it did not feel crowded at all.
The park has a lazy river, which we went to first.  The water was COLD!  After a few laps there, we headed up to the main feature – the Treehouse.  The kids really enjoyed this area of the park (and the water was much warmer).  The Treehouse has several interactive features that basically all have the same goal – dousing other people with water.  There are also two enclosed tube slides that we all tested and loved. You have to be 42 inches tall to ride these – our 5 year old barely made it – and both kids said that the slides were their favorite part of the waterpark. We also visited the basketball pool and the hot tub (my favorite).  From the hot tub we had a good view of an interesting phenomenon.  Every few minutes, a bell starts to ring, and kids start to gather at a certain spot below the treehouse.  Why? Because of this:
A huge bucket dumps 1,000 gallons of water down on you – quite exhilarating!
Papa Grands Pizza
After a couple hours at the waterpark, we had worked up an appetite. We headed back over to the Fun Spot to cash in our pizza vouchers.  Papa Grands functions primarily as a pizza buffet, so the two pizzas that we got with our vouchers were what you would expect to find at a buffet such as CiCis, or could be compared to Chuck E Cheese's pizza before they revamped it.  So, it was not spectacular pizza, but we devoured both pies before heading back to our room for some rest time.
The Indoor Pool
The indoor pool is located near the back of the resort property.  It is a nice size for a hotel pool, with both a shallow and deep end, and a small hot tub. After taking a look at the indoor pool, we gave the kids the choice of going to the pool for the afternoon or going back to the waterpark.  They chose the pool (perhaps because we had brought swim fins and goggles that they wanted to use).  Craig and I commandeered the two lounge chairs and spent a good three hours relaxing while the kids played and played and played.
Grand Country Buffet
After the pool, it was time for dinner.  Craig wanted to try out the Grand Country Buffet, so that was our big spend for the weekend.  The dinner buffet was just under $40 for the four of us – $12.75 per adult and $5 per child before tax (drinks are not included, but the complimentary water, tea, and coffee that comes with the package are). The buffet lives up to its name in the sense that the food is very country.  Lots of bread and breaded items.  Almost all of the meat items were fried.  Overall, a good selection if country comfort food is what you are looking for.  However, if fried food is not your thing, or you are looking for healthy food items, this is not the place to go.  We were all underwhelmed with the food choices and the quality.
Shows
After dinner we headed to the Grand Jubilee music show, which was one of two shows that we got tickets to as part of our vacation package.  The theater is in the same building as the buffet, so that was convenient.  Craig and I were surprised at how small the theater was when we first sat down, and because we didn't book our tickets before our arrival and the show was sold out, our seats were in the very back right corner.  I was concerned that the Grand Jubilee show would not hold the kids' attention and that Craig and I would be bored since we are not big country music fans, but there was no reason to worry.  The kids absolutely loved the show, clapping and be-boppping throughout.  I also found it very entertaining, and was surprised that there were not really that many country songs in the show at all.  The performers changed clothes at least 10 times during the show with costumes ranging from elegant to zany.  Concessions were reasonably priced – $2.50 for a small bucket of popcorn – and we got complimentary drinks here too.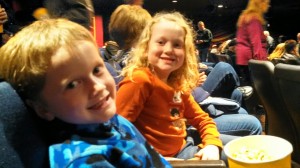 The next morning, we saw the Amazing Pets show.  This show is definitely geared towards kids and is a mix of comedy, magic, and acts involving cats and dogs.  The show is two hours long. I thought it would be improved by making it a one and a half hour show, cutting out some of the MC's commentary and somewhat painful comedy, and putting more focus on the pets. The animals are truly the stars of the show, along with their trainer, a stern looking Russian fellow.  The kids said that they enjoyed the Grand Jubilee and the Amazing Pets show equally.
After the Amazing Pets show, it was time to go home.  I think we will definitely be back next year to take advantage of this package.  The pros are that it is affordable, entertaining, relaxing, and accessible for our family.  The cons are that the hotel rooms are minimal and the food options are not what we prefer.  However, the cost of the attractions alone is more than this entire package cost us, so the lodging is basically free, and thanks to Grand Country's central location on Branson's highway 76, you don't have to go far to find other places to eat.
Disclosure: We were not compensated in any way for this post.  We paid full price for the Summer Fun in Winter vacation package at Grand Country Inn.  This blog post contains the sincere opinions of myself and my family.
Filed under: 417 With Kids, Missouri, Travel, Weekend Getaways · Tags: 2 Night, Branson, family, fun, Getaway, Grand Country Inn, Indoor, Missouri, Music show, Package, Waterpark, Weekend, winter