Instead of the Dishes » Frugal Fawn, Spending Less, Travel » Florida's 30a Beach Trip on a Budget
Vacations are something that every family needs (IMO), but planning one on very limited funds can be stressful. We love the beach, but getting (and staying) there frugally can be a real challenge.  We are lucky that the nearest beach is one of the most beautiful in the world, Florida's Emerald Coast, which is also known as the Beaches of South Walton, and sometimes just by the name of the highway that runs along it – 30A.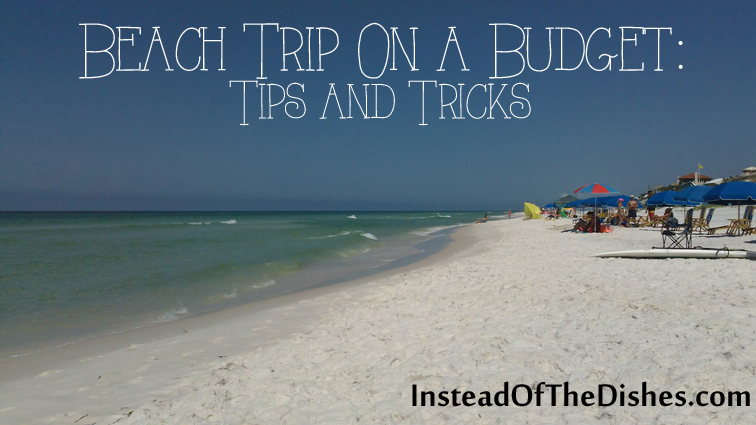 Our vacation planning goal is to strike a balance between comfort and practicality and between savings and indulgence.  Here are our tips for planning an enjoyable week on the beaches of South Walton without breaking the bank:
Booking Lodging
The type of lodging you choose depends on your family's needs and preferences, so think this over carefully before you book something.  For us, it's important to have a kitchen so we can make our own meals (saves a ton of money) and to be able to see and hear the ocean from where we stay. We could definitely find cheaper lodging off of the beach, but in our opinion, it's not worth it to drive 13 hours to the beach and not be able to enjoy it at every moment of our stay.  We save money in other areas of our vacation and spend a little more here.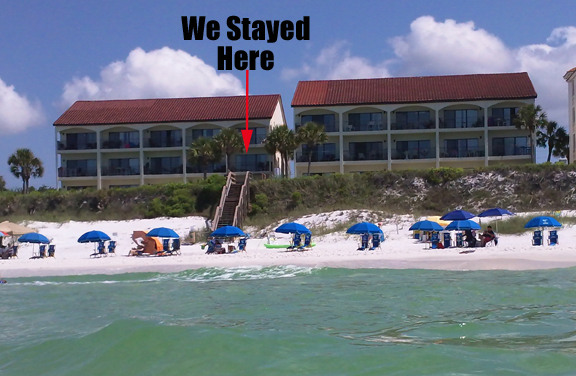 We use Vacation Rentals By Owner as the starting place for our lodging search. There are several local real estate companies that specialize in rental properties as well.  Here are a few to peruse:
There are thousands of rental properties available, so that's why it's important to set out specific parameters for what you want before you start looking. One easy way to narrow things down is location. There are several villages along highway 30A. A couple of our favorites for a good mix of reasonably priced lodging and nice ambiance are Seagrove Beach and Grayton Beach.  Another option is to check out the state parks.  There are several along the Emerald Coast, and a few of them offer cabins with kitchens.
Getting There
Depending on where you are coming from, this might use up a good portion of your budget. Traveling from our home in Southwest Missouri to the Gulf takes about 13 hours. We cashed in credit card reward points for free hotel stays so that we could break our trip up across two days for the kids. If you happen to have friends or family that live along the way, stay with them!
We pack a bag of snacks from home, as well as a variety of entertainment sources – art supplies, handheld games, DVD player, audio books, and a few surprises to break up the boredom along the way.  This minimizes our need to stop (stopping seems to lead to spending money).
For our last trip, we tried the quarter bribe idea – when we got in the car, each child got $5 in quarters. Every time they misbehaved, they had to pay me a quarter.  The money they had left at the end of the trip was their spending money. Giving them this set amount of spending money that they had to earn decreased the amount of "I Want" that we had to deal with, and also gave us a set budget for souvenirs.
If you have a Kroger shopping card (or Dillons, or any of their other family of stores) bring it with you.  All of the Tom Thumb gas stations in the South Walton (and beyond) area are owned by Kroger, so you can get discounts with your card there.
Food
As I mentioned, we prefer to have a kitchen at the beach so that we can make our own meals. For our family of four, I spent $250 for a week's worth of groceries (yes, even food at the beach grocery store is more expensive). Compare this to our lunch out in Seaside, which cost us $70+ and there were no leftovers. Not to say that you shouldn't eat out, but not eating out for every meal will save you a LOT of money (and you can make sure your kids are getting some healthy food that they will actually eat). You can save even more money by bringing dry goods from home, if you have room. I have put together a separate post with our vacation meal plan and grocery shopping list.
If you are going to eat out, go out for lunch when prices are a little lower, or go for an early dinner.  Some restaurants have buy one get one entrée specials between 5 and 6 pm.
Entertainment
When in Rome…check the Romans' event calendars.  Many of the villages in South Walton have online event calendars that offer tons of fun and free family events.  From children's theater performances to open air music festivals to pirate parades, there's a little something for everyone. These free events serve as a nice break when cheeks start to look a little too pink or you are in the mood to show off that new sundress you packed. Here are some resources to get you started:
We also like to have one "splurge" in the entertainment category.  This gives everyone something to look forward to. The splurge you pick depends on your family's preferences – there are certainly plenty of diversions to choose from. This last trip, we chose Gulf World, a small marine park in Panama City Beach, where we got to interact with a bottlenose dolphin named Comet.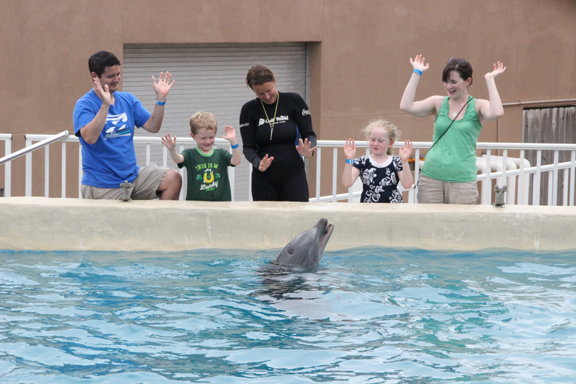 Remember that you are on vacation and it's ok to live a little. Plan out a budget and then add 10% for unforeseen expenses/adventures. Don't forget to enjoy the simple things, like nightly family dinners in your condo, playing in the surf and sand, and the feeling of your shoulders dropping away from your earlobes as your stress floats away on the breeze.
Filed under: Frugal Fawn, Spending Less, Travel · Tags: 30A, Beach, Florida, saving money, travel, vacation, Walton