Instead of the Dishes » Education, Frugal Fawn, Grocery Shopping, Mommyhood, Product Reviews, Shopping » Sell-Free, Simple School Fundraiser – Shoparoo!
Disclosure: This is a sponsored post. I really do use Shoparoo, and I really am excited about it, otherwise I wouldn't be writing about it!  All other opinions expressed herein are my own, too.
I have a confession to make. I do not like school fundraisers.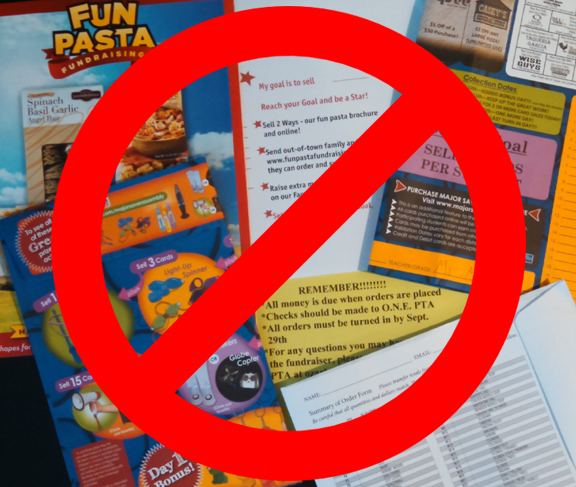 I abhor spending money on over-priced things that I don't really want so that a portion of the proceeds will go to my school. It irritates the heck out of me that my kids are bribed into selling things with the promise of cheap toys as a reward. And I refuse to harass my friends and family to buy this stuff too. I usually end up making a straight cash donation to the school instead.
Me saying all this is a bit scandalous because I serve on the board of my school's PTA, and everyone knows that fundraising is what we PTA ladies do. Well, I'm the Volunteer Coordinator. I help match up people with projects and tasks that they can do to help the school, and buying $15 worth of cookie dough/ornaments/magazines so the school can earn $2 does not seem very helpful.
BUT, I have found a school fundraiser that I can truly get behind. It's a simple task that nearly every parent can do to help the school, and that's what I'm all about.
It's called Shoparoo. Shoparoo is an app that you download to your phone.  When you shop, you snap a picture of your receipt, and you automatically earn money for your school.  Here's how it works: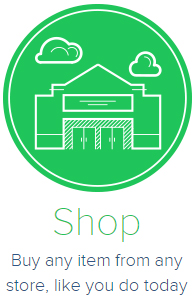 Shop like you normally would. No certain stores or special items to buy.  Stores are separated into two categories: Grocery and non-grocery.  Receipts from stores that sell groceries (including supermarkets, convenience stores, club stores, closeout stores, mom-and-pops/bodegas, liquor stores, dollar stores, gas stations (not including gas-only purchases), drug stores, health stores, pet stores, toy stores, and beauty stores), earn a cash donation to your school.
Receipts from all other stores earn an entry into monthly and yearly cash sweepstakes.
Snap a picture of those receipts from inside the Shoparoo app.  The app guides you through the process – it is super easy. The app will then add "Roo Points" (which convert to $$) to your account, or count your receipt toward your sweepstakes entries.
You can submit up to 20 grocery receipts within a rolling 7 day period.
If you're concerned about privacy, you can use a sharpie to black out the info you don't want to share. Just make sure the purchase date, store name, items shopped for, and total transaction amount are showing. Shoparoo collects this information and turns it into anonymous market research reports. Major consumer goods companies pay for information such as, "Families in the Springfield area are 40% more likely than the rest of the country to shop for milk at a supercenter than a traditional grocery store." You can always rest assured that all research data is ANONYMOUS.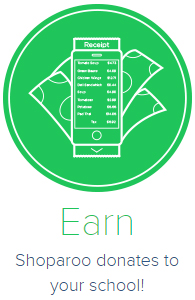 Earn "Roo Points" from the transaction total on grocery receipts that you snap like this:
+ < $10 = 10 Roo Points
+ $10 – $50 = 20 Roo Points
+ $50 – $100 = 30 Roo Points
+ $100+ = 40 Roo Points
5000 Roo Points = $10 for your school
A minimum of 25,000 Roo Points must be earned for a check to be set to your school, otherwise, your points roll over to the following school year. You can also earn points by filling out surveys in the app (just tap the "Earn" tab at the bottom).  Once you have more than one person using Shoparoo for your school, you can also have grade level competitions to see who is earning the most. Schools with 50 active supporters are earning around $1,000 a year!
I also have a special treat:  Use blog code BLOG50 when you sign up. Then, if you're the first person from your school to start using Shoparoo, you'll automatically earn $10 for your school.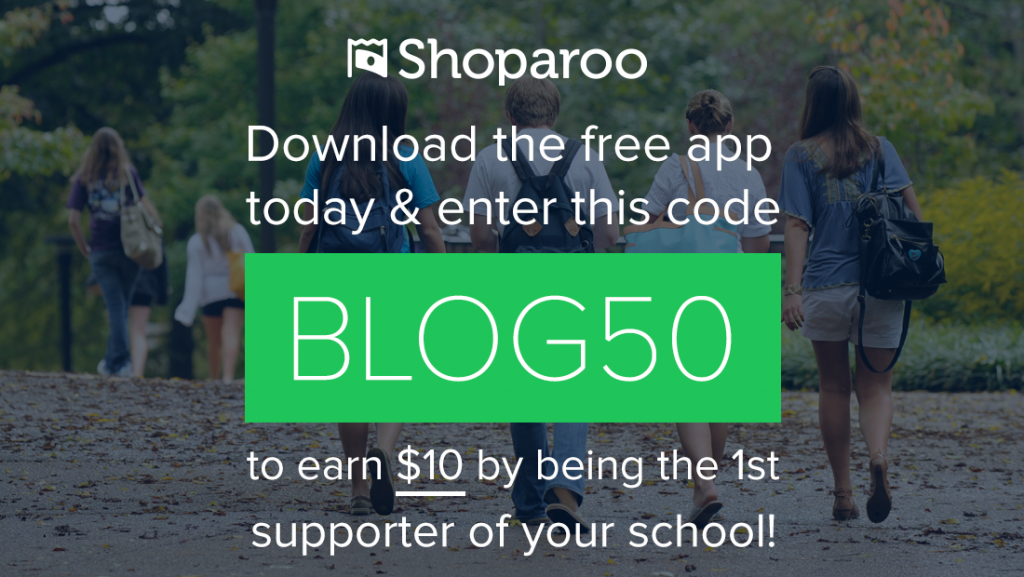 Try Shoparoo's hassle-free mobile fundraising app today! Be the first to scan a receipt with Shoparoo and earn $10 for your school – click here 
I have been using Shoparoo for about a week and have earned 865 points and two sweepstakes entries by scanning in 4 receipts and filling out 2 surveys that took me less than 2 minutes each. I can't wait to share with my PTA board and get other parents from my school involved!
If you have more questions about the app, you can post them in the comments, or visit the Shoparoo website, where you will find a link to their FAQ at the bottom of the page.  This app was created by former teachers, so the interface is pretty easy to learn. Give it a try and tell your friends – Shoparoo is a simple task that you can do to help your school – no buying, selling, or bribing involved – Woo Hoo!
Disclosure: This is a sponsored post. I really do use Shoparoo, and I really am excited about it, otherwise I wouldn't be writing about it!  All other opinions expressed herein are my own, too.
Filed under: Education, Frugal Fawn, Grocery Shopping, Mommyhood, Product Reviews, Shopping · Tags: Android, app, Fundraiser, iPhone, market research, school, Shoparoo