Instead of the Dishes » Fitness, Health & Fitness, Mommyhood » Resolutions: Looking Back, Moving Forward
New Year's Resolutions are an interesting thing.  Everyone has an opinion about them.  Some folks thrive on them, and others think they are evil.  Personally, I'm a big fan.  I like the concepts of change and renewal, especially the kind I can control.
First, I want to take a look back at 2010′s resolutions.
1. Eat More Local Food. Hearing Joel Salatin speak really inspired me to make this change. We shopped at the Farmers Markets in both Little Rock and North Little Rock, and also enjoyed shopping and lunching at the new Argenta Market.  We are  SOO thankful for our friends and neighbors, Meredith Neesvig and her parents Randy and Elaine Hankins, who brought us loads of produce from their farm in Ash Grove, MO.  Funny that we moved to Arkansas and now eat local produce from our old home region in Missouri.  We also planted our own little garden, which provided only a little bit of produce, but LOTS of learning opportunities for both the kids and I.
2. Spend More One-on-One Time with Our Kids.  This one is hard to judge.  I'm not sure if I spent more time one-on-one with the kids than I normally would have, but I can say that I never felt a disconnect from either of them, or that one was getting more time with me than the other.  Craig and I often divide and conquer, so we're mixing and matching our company.  As it is, the kids love to be together, and prefer to do things together, so that may have had some factor in it all.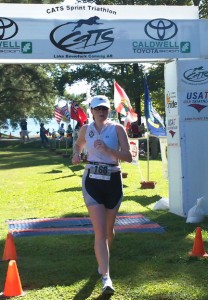 3. Submit Writing Once a Month.  FAIL!  I did get a few submissions in this year, but not 12 of them!  I did pick up the pace a bit toward the end of the year, as I started doing a little freelancing for the Arkansas Democrat Gazette in addition to continuing to work with Little Rock Family.
4. Compete in a Triathlon. I did, in fact, complete a triathalon this past summer.  I did the Conway Sprint Triathalon and had a blast.  I was also surprised to find that I won my age group!  Another big fitness accomplishment for 2010 was completing my first ever half marathon.  Again I give thanks to my friend Meredith, who talked me into training and running the race.  I'm considering putting a half marathon on my calendar for fall of 2011, it was so much fun.
I'm planning to carry each of these 2010 resolutions forward into 2011.  Shouldn't be too hard, as I enjoyed accomplishing each of them.
For 2011, I only have two new Resolutions.
1. Wake up at 6 a.m.  The sleeping habits of my offspring have improved substantially through 2010, so that I am less sleep deprived than I used to be.  However, I still use my children as an alarm clock.  Waking up to your child whining, crying from his/her bed, or jumping on you is not a good way to start the day.  So, I bought myself a "real" alarm clock and hope that waking up at 6am will allow me the opportunity to greet the sun on my own terms instead of stumbling around in a haze trying to go from 0 to 60 while meeting the needs of my early-bird children. After waking 3-4 times a week at 5:15 for half marathon training runs, 6am should be easy!
2. Develop Time Management Skills. In my opinion, I already have time management skills.  But, I'd like to hone them to be more efficient.  This means I'll be attempting to incorporate things like a daily/weekly detailed schedule, meal planning, and better scheduling of my to-do list.  Hopefully this will help me compartmentalize my time in ways that help me balance family, projects, and home. I'll keep you posted on that.
Do you have 2011 Resolutions?
Filed under: Fitness, Health & Fitness, Mommyhood · Tags: fitness, health, resolutions, time management