About the Blog
Not every mom is a suzy homemaker, martha stewart type.  Some of us are winging it, finding ways to get things done, with or without grace, while possibly daydreaming about traveling the world or escaping to an office cubicle for the day to get some "real" work done.  That's what this blog is all about.  My family is my greatest, and hardest, pet project, but it doesn't entirely define my life.  I'm sharing ideas, tips, and knowledge on what I've learned as I try to balance the "we" against the "me".
You can go here to see how this blog was born. I've figured out how to get other women to cook dinner for my husband.  I've covered how to take the local food revolution into your own hands.  I tried to discuss my commitment issues, but didn't know for sure if I would be able to cover it all.  Sometimes I share about my kids' antics, and sometimes I give a little TMI about myself.  Overall, though, I'm blogging about balance, and ways we can balance what we have to do with what we want to do and get it all done.
Please send chocolate.
About Me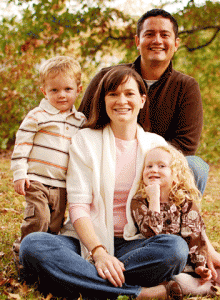 I spent most of my childhood in various towns within the Show-Me-State, Missouri.  I have a B.S. and an M.A. in writing from the University formerly known as Southwest Missouri State. Following my course work, I spent six years working at a science museum called Discovery Center, where I learned a little bit about a whole lot of things. Since then, I've been a stay at home mom and part time work from home mom, gobbling up projects related to event planning, social media, marketing, and trying to make the lives of my fellow moms easier.
About seven years ago I married Craig, who shares many of the same priorities in life as I do, and will be an excellent house husband if he ever makes enough money to pay off his college debt. I'm Mom to Carina and Callen, ages 6 and 5, respectively. After a four year hiatus in Little Rock, Arkansas we've returned to the midwest for the great schools, proximity to family, and the opportunity to open our own dental practice, Little Grins Dental.  Craig does the dentistry, I do the PR, and our kids make sure the indoor play gym is working properly.