Instead of the Dishes » Disney, Travel » Disney Cruise Day 2: Hollywood Studios and DCL Port
When we returned to our room on day 1, we had a letter from Disney Cruise Lines (DCL) saying that a motor coach would depart at 12 noon to take us to the DCL terminal in Port Canaveral. So, with a free morning and that wonderful two day park hopper pass burning a hole in our pockets, we decided to head for Hollywood Studios, which opened early at 8am. We just left all our luggage on the bed in our room, where it was magically whisked away to our cabin on board the Disney Magic.
Hollywood Studios is literally five minutes from Pop Century via the Disney bus system. So, we arrived at the park just as it opened and made a bee line for the Toy Story Mania! ride. We noticed everyone else going that direction too, and sure enough, when we got there, all the fast passes were gone! So, we waited in line, but only about 20 minutes (even though the estimator said 40 minutes), and that time passed quickly as the "waiting room" is a re-creation of Andy's room where you are the same size as Woody, Jesse, and Buzz would be. There's also the animatronic Mr. Potato head telling jokes.   We all loved the 4D ride, featuring midway games like ring toss, baloon popping, and dart throwing, and I heard plenty of older kids saying they loved it to.
From there we headed over to Honey, I Shrunk the Kids free play area. Here again, you explore in an oversized setting, this time the backyard of the same-named movie. The kids really enjoyed playing here, especially after Callen determined that there were no actual live spiders or bees roaming about.
We also saw the Muppet 3D movie, the Voyage of the Little Mermaid show, and did a meet and greet with The Little Einsteins and Handy Manny.  By then it was time to head back over to Pop Century for a quick lunch before jumping on the motor coach to head to THE MICKEY BOAT!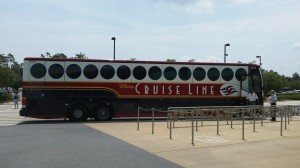 The ride from the Park to the Ship is about an hour and a half, but they show cartoons and a 30 minute program about the Disney Dream (their newest ship), so it's a pretty easy ride.  We arrived about 1:30 and had an easy go at security, check in, and youth services registration, where C&C donned their bracelets, which they will wear for the entire duration of the cruise.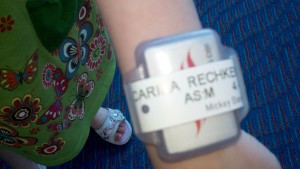 The bracelets, in addition to bearing each child's name, age, muster point, and unique numerical code – also have a GPS tracking chip in them that is scanned each time they are checked into or out of the Oceaneer's (kids) club, and is also trackable wherever the kiddos are on the ship (in case someone – ahem, Callen – wanders off).  A Very handy feature, but if you lose that sucker, it costs $50!
We were also given our Personal Navigator for the first day when we checked in. The Navigator is a daily schedule of events on board, and is vital for keeping track of what is going on where, when. (I'll post some of these as part of this post series) You'll also learn about special activities and opportunities in the Navigator that you wouldn't otherwise be aware of. For example, that first Navigator had a little notice that there would be a limited-seating tea party with Alice and the Mad Hatter during our time at sea, with tickets at the Guest Services desk. So, when we got on board, I went to the Guest Services desk and picked up four tickets for our family.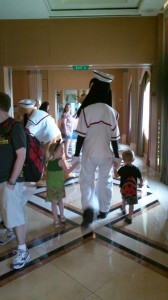 When we walked on board, our family was "announced" and greeted by Callen's favorite Disney character, Goofy (aka Hot Dog). Then, we headed up to our cabin to get settled in. We booked cabin 6611 (on deck 6), which Craig carefully chose for it's balance of frugality (cheap rate) and excellent location (proximity to the Oceaneer's Club check in). Our luggage started arriving almost immediately after we did, so I unpacked as it came. You've got to be a little creative about stowing clothes for 4 people in the cabin's drawers and cabinets, but overall I would say there is a decent amount of storage even in our small inside stateroom.
TIP: Try to pack in soft-sided collapsable luggage as much as possible so it doesn't take up valuable storage space. Our friends, the Brams, cruised with us, clued us in to the fact that you can stow hard-sided suitcases under the bed if you leave the lids folded open. Then, put the suitcase under the bed lid first, so you can leave items in the deep side and pull it out from under the bed like a drawer.
After spending a few hours exploring the ship, it was time for dinner. Disney features rotating dining, meaning you eat dinner in one of the three on-board restaurants on a schedule each night. This avoids crowding and provides variety. Your servers travel with you to each restaurant, so that by the second or third night, you don't even have to tell them that the kids want chocolate milk, or that your Long Island Iced Tea should be light on the ice. So, our first dinner was in Animator's Palate. We were a little disappointed that the famous white and black dining room didn't magically change to full color while we ate that first night, but dinner was still fabulous, except for our somewhat cranky/wired kids.
After dinner, we saw the first of our nightly feature shows, a "sampler" show called All Aboard which highlights several of the acts/shows that can be seen throughout the Cruise. With a few Disney musical numbers sprinkled between the comedians, it was enough to keep the kids occupied and give us a good idea of which shows would be the most anticipated.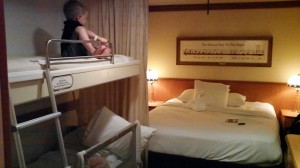 Following the show, it was back to our cabin, where we were greeted by our first towel animal, a swan, and found that our couch had been magically transformed into bunk beds for the kids.  And, of course, there was our last indulgence of the night, which Carina calls, "night chocolate".  It may be the only thing she actually remembers from our last cruise. We took a quick shower and were rocked to sleep by the carribean ocean waves in no time.
Other Posts in this Series:
Cruising with Disney (planning)
Disney Cruise Day 1: Travel and Magic Kingdom
Filed under: Disney, Travel · Tags: DCL, Disney Cruise Line, hollywood studios, port