Instead of the Dishes » Events, Fitness, Health, Health & Fitness, Local Yocal, Mommyhood » Why I Will Continue to Support the Susan G. Komen Race for the Cure
For the past four days, my head has been buzzing with all the back and forth over the Susan G Komen Foundation's (SGK) decision to pull funding from, and then give it back to, Planned Parenthood. The media circus continues to swirl, and it appears that while the initial decision to pull funding created many a foe out of former SGK supporters, there are now also people who are mad about the reversal of the decision. It's a scary thing when politics get involved with charities and causes that are so personal to so many. But, here in America, it seems that politics are involved with everything and so I am concerned with all of this, but not surprised.
Another side of SGK's problems that I've become aware of just in the past few days is the segment of the population who didn't like Komen to begin with, not because of politics or personal beliefs about Planned Parenthood, but because of the marketing spin, the glorification of the pink ribbon, the "prettying up" and glamification of breast cancer, and the pressure to conform to these ideas or be cast out by the masses. Even the term "survivor" can bring a cringe to these faces.  I can understand this perspective, and for this one, I am surprised, not at the sentiment, but at the fact that I was never aware of it before.  For more insight on this, see this essay from Barbara Ehrenreich, author and breast cancer…sufferer?  (she doesn't like the term survivor, either).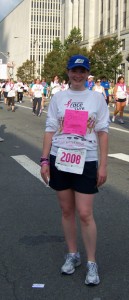 Since I've lived in Arkansas, I've been a big fan of the Race for the Cure event that happens in downtown Little Rock each October.  Here on my blog, the posts that I've written about the race have always been amongst my most popular posts. The first time I did the race it was because a friend asked me to be on her race "team", and once I took part in that first race, I was hooked.  On the other hand, I'm not a big fan of pink, and I don't buy pink ribbon merchandise. Breast Cancer is an important cause to me, as it affects so many of us, but I am among the lucky who can say I don't know anyone who has lost their life to breast cancer. I am pro-choice and I whole-heartedly support the work that Planned Parenthood does, especially in a state like Arkansas when there are so many women who do not have easy access to breast health care resources.
On Wednesday, the Arkansas affiliate of the Susan G Komen Race for the cure released this statement. I thought it was a well-worded response to the pandemonium.  It answered the questions I had about the local affiliate's stance. However, it made me wonder why there has been no relationship with the Arkansas Planned Parenthood locations (there is one in Fayetteville and one in Little Rock) in the past.  I hope that it's not political, but as I mentioned, it seems like EVERYTHING is.
What I do know is that the money we raise here in Arkansas during the Arkansas Race for the Cure goes toward funding breast cancer screening and treatment here in Arkansas. That is important to me.  There are several counties in Arkansas that don't have even one single mammography machine within their borders. And, with health care what it is today, even those who live in the more urban areas of our state can find it difficult to gain access to care. Without the Arkansas Komen affiliate, there's nothing in place to build awareness and direct funds to where they are most needed.
Honestly though, even the money part of it takes a back seat for me as to why the race is important. Absolutely the fundraising is THE critical component of the Race when you look at it big-picture.  But, there's something more to the Race that you won't ever know about unless you've been there.  I've written before about the electrical feeling in the air, the music, the throbbing crowd, the expo area.  I've mentioned that it's the biggest sporting event (not contained in a stadium) that I've ever attended.  But there's something else. It's that sense, for me, to be able to show my support to the hundreds, maybe thousands, of women who have or have had breast cancer in attendance.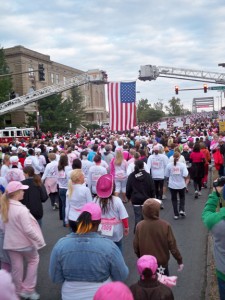 One of the times that I lined up at the starting line with the other thousand or so women who actually RACE the Race, I ended up standing behind a woman with no hair.  The back of her shirt had a sign pinned to it that said, "I race in honor of…ME!" When she turned to look at the crowd stretched out behind us, I just smiled at her.  What I really wanted to say was, "Look. We're all here. Standing behind you.  We've got your back.  We're running in honor of you, too."  And while having breast cancer inducts you into a sisterhood that some claim has been airbrushed and glossed over by Komen, as women we are all part of a sisterhood, because we all run the risk of falling prey to cancer, not just within our own breasts, but within our hearts as we lose the mothers, sisters, daughters, and friends that we all love. The Race lets us not only see the vastness of that sisterhood, but also to feel it.
In 2010, as my family and I stood and watched the "parade of pink" (a parade of women who have lived through breast cancer treatment) after the Race, we talked with the family next to us: a father with grown children and his grandchildren, all waiting to see "grandma" go by in the parade.  The parade of pink sways my emotions every time I watch it, but watching the pride and happiness on the faces of all those family members as their grandma walked by brought me to tears.  I gave grandpa my finisher's medal and asked him to pass it along to Grandma, just as a memento of the day. It struck me that these are the women who should be getting medals.  Not those of us who ran 3.1 miles, but those who undergo a treatment that can include intentional poisoning, mastectomies, and so much more.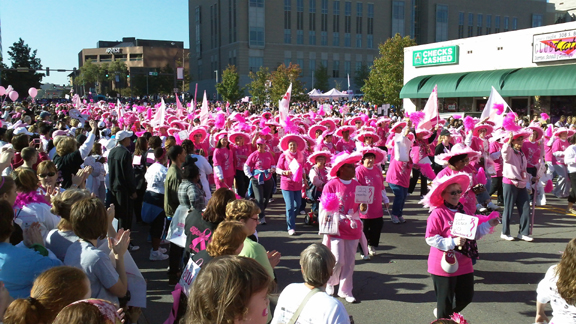 There's more to fighting breast cancer than owning a pink blender or an article of clothing with a pink ribbon on it, and I think that the Race lets us all remember that.  It's real, and while the tone of the day is a festive one, it shows us that Breast Cancer can be scary for everyone involved. It takes more than a smile, a 30 minute run, a shared finisher's medal, or even a couple hundred dollars in donations to help cure cancer, but it's still important to me to do my part. I'm really there not to support SGK as an entity, but to support all those who had, have, or will have breast cancer. Because someday, it could be me, or my mother, sister, friend, or daughter standing on that starting line with no hair. And if it is, I want us to be able to turn around and see that thousands of women are standing behind us.
Filed under: Events, Fitness, Health, Health & Fitness, Local Yocal, Mommyhood · Tags: arkansas, Planned Parenthood, race for the cure, Susan G. Komen