Instead of the Dishes » Homemaking, Mommyhood » FOR SALE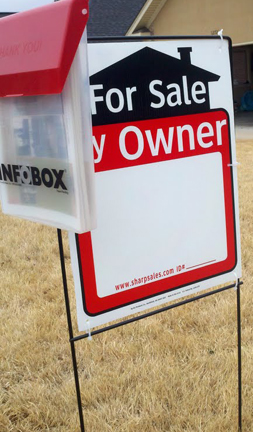 There's a FOR SALE sign in our front yard.  Actually, there's a FOR SALE sign in both of our front yards.  If we only had one front yard, we wouldn't need any signs.  But, I have to hold tight to my mantra, that "everything happens for a reason".
When we moved here to Little Rock three and a half years ago, the real estate market was in a full-on nose dive. We probably should have realized this earlier than we did.  We probably should not have bought the house that we bought here in Little Rock, although we love it and have put lots of work into making it our home. And if we want to keep going with that, we probably should not have built a custom home in Ozark, Missouri. We probably should not have ever referred to it as our "forever home" and then lived in it for only a year.  We probably should not have leased our house to those people that seemed so responsible, but who disappeared with our house keys and garage door openers and left behind thousands of dollars in clean up and repairs.  We probably should not have. But we did.
And perhaps everything does happen for a reason. So perhaps there is a reason that our house in Missouri has not sold for these past three years when we thought that it should be quickly purchased and loved, and perhaps there is sense behind why Craig's career path here in Arkansas has curved and twisted and climbed and fallen like the roads we traveled on to get down here when we thought that it would rise on a straight, clear trajectory. Perhaps.
We still don't know exactly what our next chapter will be, but we have ideas. Big ones and little ones. Ideas that are exciting and promising for what our future will hold, but sad and melancholy for what we will leave behind.
There is a FOR SALE sign in our front yard, and I have to keep reminding myself that it's supposed to be there.
Filed under: Homemaking, Mommyhood · Tags: house for sale, moving