Instead of the Dishes » Around the House, Around the Town, Go Green » Earn and Learn with Recyclebank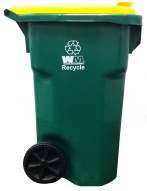 If you live here in Little Rock, you've probably already received your fancy new recycling cart with the bright yellow lid.  In addition to the benefits of holding more recycled materials, eliminating the need to sort, and taking up less space in the garage than the two short bins we previously had, the new enhanced services also include Recyclebank Rewards.
Recyclebank is a FREE online program that rewards you for taking everyday green actions. So, you'll earn points every time you haul your new cart out to the curb. If you're not here in Little Rock, you can enter your address to see if your recycling program is part of the Recyclebank program. You can also earn points by taking quizzes, signing up for eco-friendly programs, and more on the Recyclebank website, so even if you don't live here, there are still many ways to earn. Then, you can cash your points in for discounts and deals from many different companies and businesses.

It's a no-brainer to get rewards for doing things you already do, plus Recyclebank can help you make your lifestyle even greener in many different ways.  I just recently joined Recyclebank and have found that it's incredibly easy to earn points.  Yesterday my four year old and I played an educational game together and earned 25 points in about 3 minutes. Check it out!
Filed under: Around the House, Around the Town, Go Green · Tags: Recyclebank, Recycling, Rewards