Instead of the Dishes » Around the House, Go Green, Guest Blogger, Homemaking, Mommyhood » A Day in the Life of a Professional Organizer
Today, Pro Organizer Holly Shacklett is taking us behind the scenes with her in her career as a professional organizer.  I'm both thankful for the great tips and also a little jealous – I love to purge stuff – especially other people's stuff! 
As a small business owner so many of my days are spent on the business side of things.  There are clients to be found, facebook pages to manage, blog posts to create, and networking events to try and attend.  I have one child in school but I still have a two year old to nurture and teach.   My first priority of the day is mothering so when I am not "on the job" I am happily loving on my spunky 2 year old while running my business.  Nothing ever runs totally smoothly and either my business responsibilities suffer or my 2 year old watches too much Netflix.  But I'm okay with that even though I try to figure out a way to truly balance it all.
I rely heavily on a good friend and my Mother-In-Law to care for my most treasured possession while I spend time in someone else's house helping them de-clutter their stuff, which sometimes feels like I am a therapist.  The best part of being a Professional Organizer is creating homes for the items that make the final cut.
Before even going to work on someone's house we (I have a business partner named Janet) have already seen the house and talked at length about the client's goals. Janet has already estimated how long it will take us to do the project and has laid out on paper the tasks to complete.  I wouldn't want to do this business on my own and I am always keenly aware of how much I appreciate my partner's ability to organize our tasks and estimate (so amazingly close) how much time it will take us.
Often Janet and I work on our own instead of side by side with our client.  Many people who need our help work such long hours and it's the reason their stuff has gotten out of control.  It also means their time with us is limited.  It's great when we can have two hours to work on a big project and then have the client spend a small amount of time with us.  At that point we hold up an object and ask, "Is this keep, donate or trash?"  Much of the time these decisions are made quickly.  And as the donate pile or trash pile grows I get increasingly excited and verbally cheer them on.  It truly excites me to know they will have so much less to manage.  Often I don't even have to ask more questions.  We continually talk about the goal.  I help them keep their eye on the prize.  As we finish each section I talk with them about how they are feeling.  And that part is truly fun for me.  I love seeing my clients get excited about the freedom from stuff they are experiencing.
One cold morning recently Janet and I tackled a mess of a stack in this three car garage.  We could do nearly all of it on our own while the homeowner was tackling his desk clutter.  All the boxes that were papers were labeled as such.  All the photos were gathered into one box and all the framed awards and plaques were designated to another.
We made piles for sports equipment and camping gear.  We made a pile for our client's sister's stuff which needed to be moved to a storage unit.  After the "great sort" we asked our client to come out and decide the fate of what was in the piles.  We stored all the paper, photo, and awards boxes inside in a storage closet we had already de-cluttered.  Once sis's things were shipped off to the storage unit, this is all that remained:
I gave our client information on where to take his old computer (ESCO).  I had done some research on where to "greenly" dispose of such items.  For $5 this company will recycle it responsibly and delete the hard drive.
With backs aching we moved on to the next project: two storage closets.
Closet 1:
Closet 2:
I chose the linen closet.  Janet chose the game/Christmas closet.  When we "organize" we shuffle things, take everything out, and see what there is.  I asked the client which linens could be donated. I reminded him that animal shelters need all kinds of linens.  When my clients can visualize their item's next life, it is easier for them to separate themselves from the items. Our client kept his favorite linens and donated the rest.
Janet asked the client how much Christmas wrapping supplies he actually wanted to keep. In reality that is asking the client, "How much of this do you want to store and manage?" He set a wrapping boundary of one large Christmas gift bag filled, one smallish tub for ribbon and bows. We each worked quietly in our closets shuffling, folding, and cleaning shelves and floors.  We came out of our respective closets all smiles because of our results:
Janet and I don't sit and take a lunch break.  The older I get the more I think I should.  But there's just always so much to do and we are super conscious of our client's time and budget.  On this day we started late so we could stay late.  Our client's teenage son and daughter were expected to arrive around 4:30 and we had appointments with them to tackle their spaces.  
It took us 30 minutes with the boy.  He went through is closet with us and we ended up with three bags of out grown clothing to donate.  He made his decisions quick and simply knew what had value to him and what didn't.
De-cluttering with most girls is a different story. We started with this:
…and she gave us a warning about the amount of stuff that was under her bed.  So, we had her sit on the bed.  I tackled the desk area and Janet tackled the closet.  We brought stuff to her asking if she wanted it.  At first it was slow going and she was overwhelmed.  We learned what she definitely wanted to save so we could set those aside.  She would start reminiscing and I'd have to pull her back to the here and now.  She was actually having fun and that was good.  And the more we worked the quicker her decisions came.  We were able to pack things away that she didn't play with any more but wasn't able to give up just yet.  We cleaned out from under her bed and even finished her bathroom.  We spent three and a half hours with her.  Here is part of her de-cluttered room:
It was the end of the day and I was exhausted.  Mostly physically but helping others part with their stuff is not always easy.  On this day that part wasn't so bad.  But we work so quickly and focused it just drains me.  I packed up my van full of donations I would deliver the next day.
A day in the life of a Professional Organizer shows you why my house is not HGTV perfect.  It's super hard work.  But I get to do it with out beautiful little "Mommy-I-need" distractions, and with a partner who is as gifted at this gig as I am.  We joke all the time about hiring us and a babysitter to conquer my own pockets of clutter.  But I seem to make time to conquer things in smaller chunks, one Saturday at a time.
Oh, and one more perk of being a Professional Organizer and taking before and after photos of our projects?  Every once in a while I come across a gem.  Like this book cover.  I can't help but grab my i-phone and snap it to share with my beach buddies!
                    .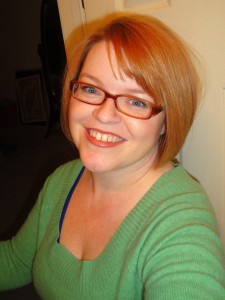 Holly is a mother of two young children, and a professional organizer in Northwest Arkansas. She actually gets a little giddy at the completion of an organizing project because she simply loves it.  Simply Organized custom designs organization solutions that work with your lifestyle and natural tendencies.  The team has been together since 2007.  You can also find Holly and Janet online at:
Website – OrganizeNWA.com
Facebook – Facebook.com/SimplyOrganizedNWA
Facebook – Facebook.com/CleverHolly
Filed under: Around the House, Go Green, Guest Blogger, Homemaking, Mommyhood · Tags: Holy Shacklett, home organization, OrganizeNWA, Professional Organizer, Simply Organized