Instead of the Dishes » Frugal Fawn » Have You Joined @Swagbucks Yet?

One of the fun things I learned about at the Savvy Blogging Summit is Swagbucks.com. I signed up for the Swagbucks.com program and have been using it for over a year. I'm excited to tell you about it!
Essentially, Swagbucks.com is an online portal where you earn "Swag Bucks" that can be redeemed for various types of rewards.  The main component of Swagbucks.com, at least for me, is their toolbar with built in internet search.  By using the Swagbucks toolbar to do your internet searches, you often win Swag Bucks.  So, you're earning swag bucks by doing something you would normally do anyway.  There are many other ways to win or earn Swag Bucks – by printing and using grocery coupons, taking surveys, watching videos, buying daily deals, taking part in special promotions, and many more.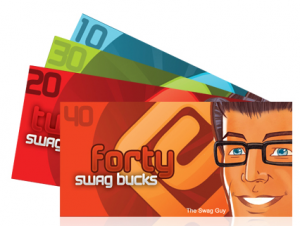 Personally, I've earned about 1500 Swag Bucks in the past two months primarily by using the Swagbucks.com toolbar to do my internet searches. Most of the bloggers I talked to about Swagbucks at Savvy Blogging said that they cash their Swag Bucks in for Amazon.com gift cards and use them to pay for Christmas. 450 Swagbucks will get you a $5 Amazon gift card.
So, if you would like to join Swagbucks.com, go here to register.
Another fun way to earn Swag Bucks is on Mega Swag Bucks Fridays – every Friday the Swag Buck winnings increase in size to 100, 200, 500, and even 1000 for internet searches.  And finally, tell your friends about Swagbucks.com.  When they sign up and start earning, you will earn right along with them – buck for buck for the first 1000 bucks they earn (so, yes, I will be earning Swag Bucks along with you if you sign up via this post – thanks much!).  Happy search-and-swag-winning!
Filed under: Frugal Fawn · Tags: code, join, Swagbucks