Instead of the Dishes » Homemaking, Mommyhood » Spring Cleaning and Organizing Help from ListPlanIt
It's April, ya'll!  Have you been bitten by the nesting bug? Does all this spring freshness make you want to de-clutter and get organized?  Between getting ready for last month's Duck Duck Goose consignment sale, and our pending move, I've been more motivated than usual to purge the things we don't use and get our household organized so we can take care of the things that really matter.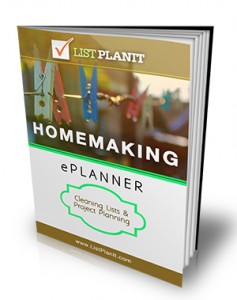 I'm excited to see that ListPlanIt has released a new Homemaking ePlanner. It is 37 pages of lists, checklists, worksheets, schedules, inventories, and to dos in areas such as cleaning, home organizing, needs shopping, and more. You can type directly into each page of this PDF to customize it to fit your needs. Being the incredibly un-domestic gal that I am, I can use all the help I can get. You can Go Here to learn more about it.
You can get the Homemaking ePlanner from the ListPlanIt website for the discounted price of $5.  Or, if you have even more areas you could use some organizational help with, you can sign up for a yearly membership, which gives you access to 700+ lists in different categories such as meal planning, home management, financial planning, and tons more (cost is $20-$30 depending on which membership you choose).  When you purchase your membership, use code SPRINGFREE5 to get a FREE ePlanner of your choice (A $7 value) with your purchase! (excludes the Business ePlanner)
Disclosure: This post contains affiliate links.  All content and opinions are my own.
Filed under: Homemaking, Mommyhood · Tags: eplanner, home, Homemaking, organize, purge, spring clean