Instead of the Dishes » Health, Health & Fitness, Mommyhood » What Petechia Looks Like
July 18th, 2012 | 2 Comments
Poor Callen.  His sister gets to be in blog posts about photo contests, and he gets featured in posts about skin conditions.
In April, we took Cal in for his four year old well child checkup.  His sweet sister was so kind as to tell him weeks in advance that he would be getting shots.  We discussed this many times over the days leading up to his appointment, and in the truck on the way, and in the waiting room, and in the exam room, and with the nurse, and with the doctor…and although he was clearly concerned, he was relatively calm about it.
On the other hand, he was totally stoked about getting to wear a "ghost costume", and when the nurse took him off to do hearing and vision "games" he thought that was incredibly fantastic.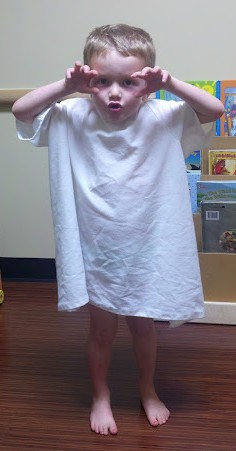 That nurse was his new best friend…Until she returned at the end of the appointment with four band-aids tacked to her scrub top and the needles to give the band-aids purpose.  Callen, who is incredibly strong for his age/size, was not happy about the fact that I was scooping him up and pinning him down to the exam table by laying on him.  The nurse managed to do her duty, but for the 30 seconds he was on the table, Callen was a screaming fit of rage that I had never seen before.
As I got him dressed, I noticed that he had small red spots around his eyes.  By the time he got all his clothes on, he had red spots around his neck, across his face, behind his ears, and up into his hairline.  I was concerned he was having a reaction, but when the doctor came and took a look, she said it was just from crying.  When we got home, I googled it and found out that this is called Petechia or Petechiae – small red or brownish spots that are not raised and don't change color when you press on them.  They are broken capilaries, and can appear after coughing, throwing up, or, apparently, screaming your head off.  So, essentially, Callen exploded, and luckily, his skin held him together.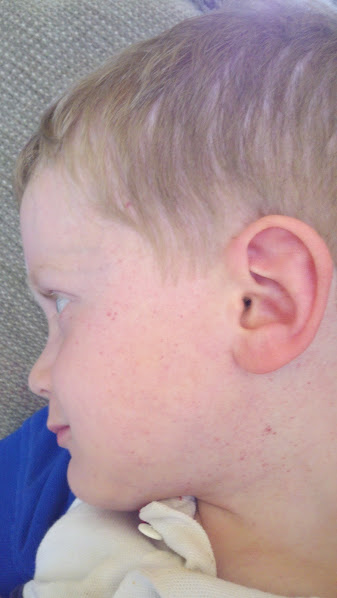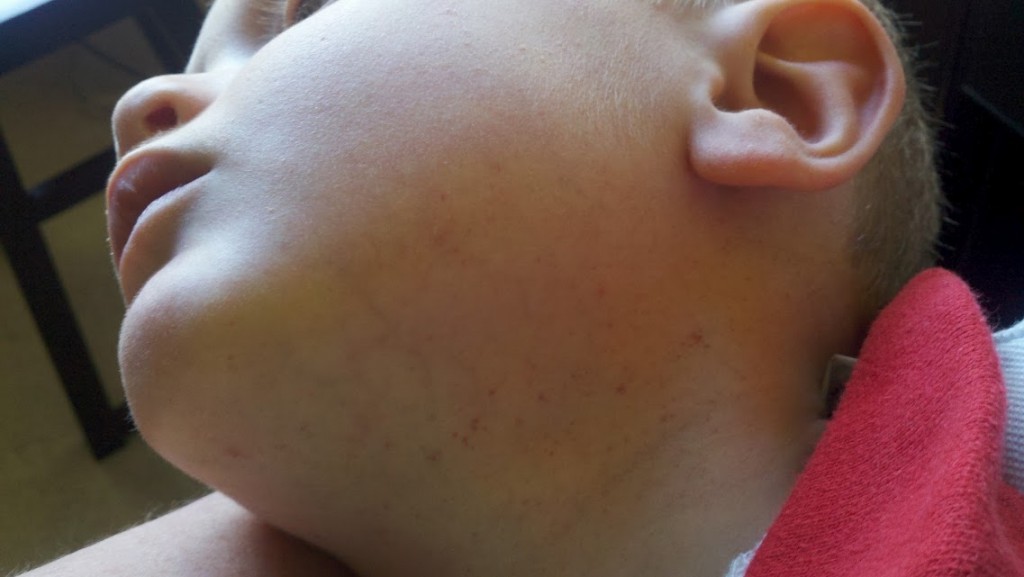 Petechia (or Petechiae) doesn't hurt, and it went away on its own gradually over a period of about 4-5 days. Callen hasn't exploded again since this, but the last time we visited the doctor, he didn't want to put on the ghost costume.  "They give you shots if you put that on, Mom!" he said.  Fortunately he didn't have to get shots at the last visit, so the ghost costume is fun again, and he saw the nurse that gave him the shots and gave her a big hug, so I think we are emotionally recovered too.
No related posts.
Filed under: Health, Health & Fitness, Mommyhood · Tags: child, coughing, crying, Petechia, Petechiae, red rash, throwing up
© 2013 Instead of the Dishes