Instead of the Dishes » Not the Dishes, Product Reviews » Stitch Fix #3
I'm excited to share my third stitch fix with you!  As I mentioned in my last stitch fix post, I have heard that the third fix is supposed to be the "magic" one where things start to jive, so I was really excited to get it.  If you want to learn more about Stitch Fix, check out my first stitch fix post. Here's what I received in fix number 3: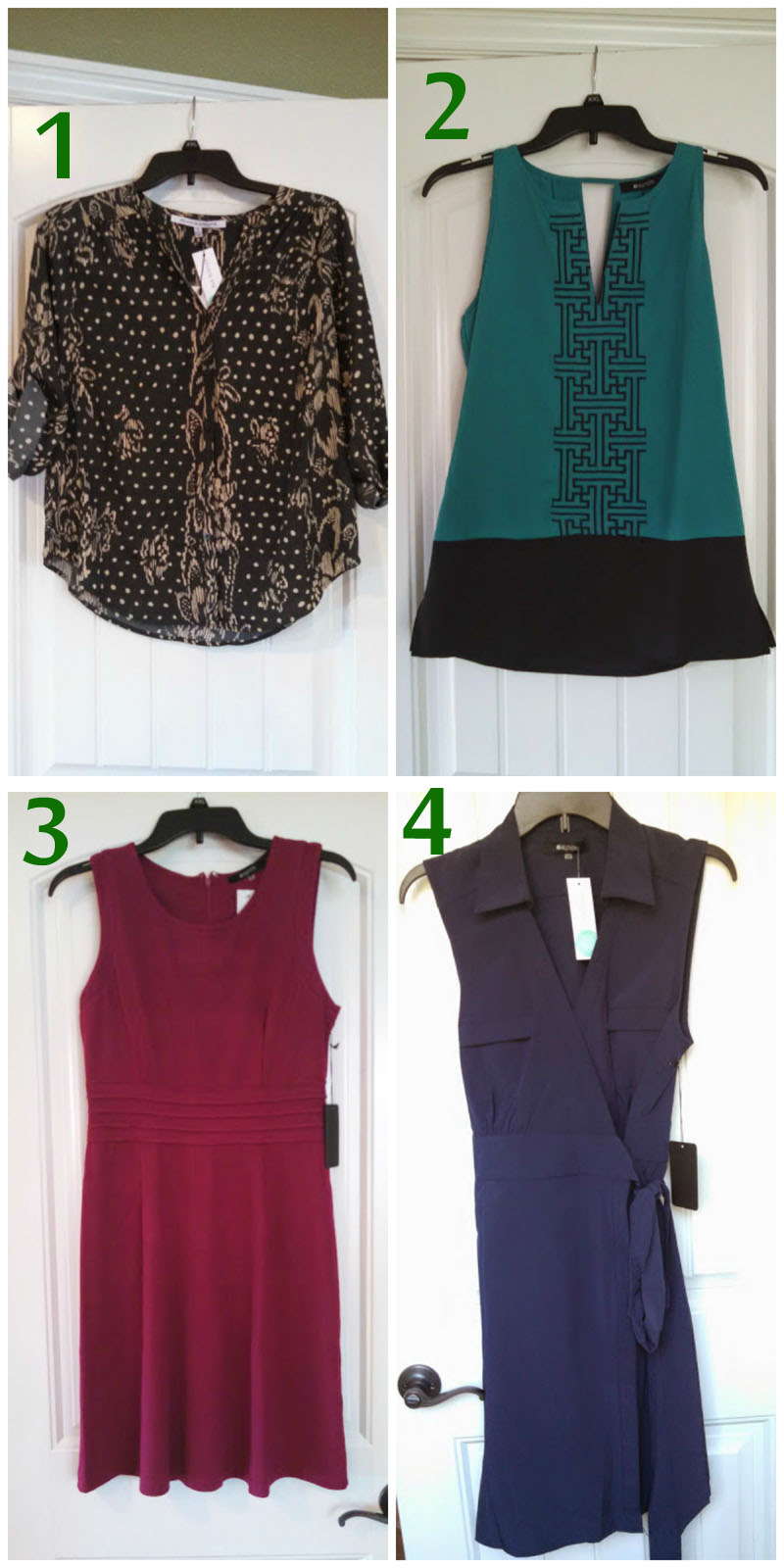 1. Finch Floral & Dot Tab-Sleeve Blouse from Collective Concepts
2. Paris Embroidery & Colorblock Detail Top from 41 Hawthorn
3. Dita Sleeveless Ponte Dress from 41 Hawthorn
4. Toulouse Sleeveless Collard Wrap Dress from 41 Hawthorn
5. Kate Distressed Boyfriend Jean from Kut From the Kloth (below)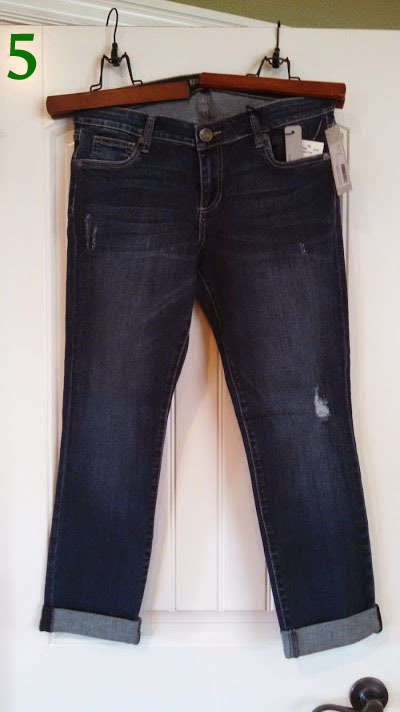 After my second stitch fix, I updated my style profile on the Stitch Fix website to show that I didn't want to receive any accessories in my fixes.  When I scheduled my third fix, I also specifically asked for some options to wear for date night on our anniversary.  I was excited to have two dresses to pick from!  Guess which one I kept?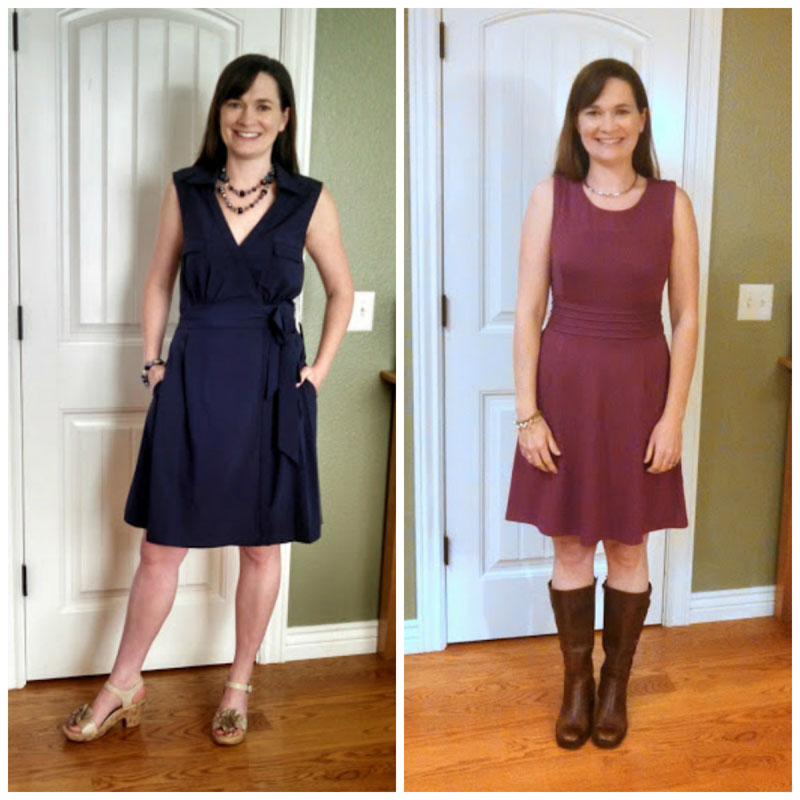 Both!  I really liked both of the dresses.  The navy blue wrap dress has a bit of a retro feel to it, and I am always a sucker for dresses with pockets.  The Dita dress was very comfortable and easy to accessorize – I had originally tried it on with summery shoes and jewelry, but by the time date night rolled around, it had turned to fall so I changed things up.
I also kept the distressed boyfriend jeans.  I don't have any jeans like them, and I'm big into casual wear, so it was a good fit: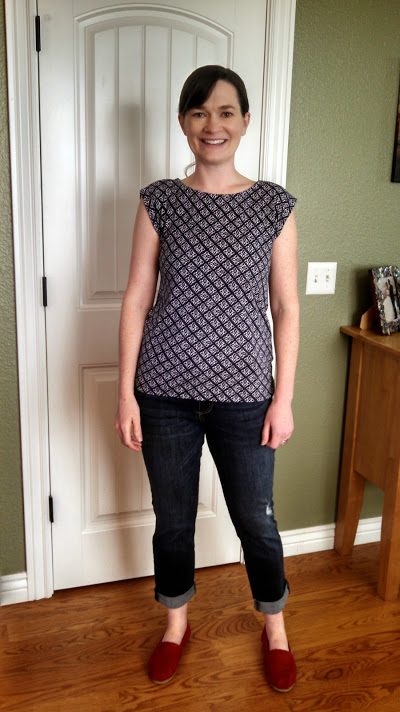 For the two tops, there was definitely one that I liked better than the other.  What do you think?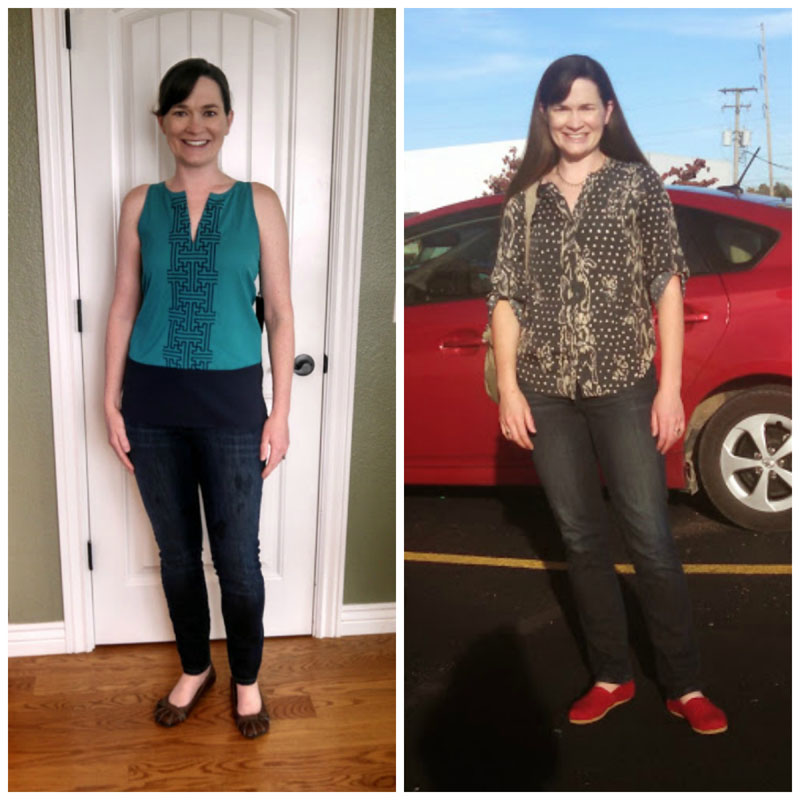 I really liked the Finch Floral and Dot Print shirt, so I kept it.  It's another example of a shirt that I would not have picked out for myself, but I really liked it on.  I liked the colorblocked top a lot too, but it was a little snug around the waistline where the navy part of the shirt is.  But, I kept it anyway because of the 25% discount that you get if you keep all 5 items. My total cost to keep the other four items would actually have been more if I had sent the colorblocked shirt back!
(My apologies for the photos in the post.  My husband apparently hates to take pictures of me, because most of them are blurry, and my 8 year old daughter took the one of me squinting in the parking lot.)
So, yes, number three was the magic number for me with Stitch Fix!  I've decided that once per quarter is a good frequency for me, so I have my next fix scheduled at the beginning of January.
If you want to learn more about Stitch Fix or try it out for yourself, visit the Stitch Fix website.  If you follow this link and decide to sign up, I will receive a $25 referral credit.
Filed under: Not the Dishes, Product Reviews · Tags: date night, Stitch Fix