Instead of the Dishes » Around the House, Around the Town, Frugal Fawn, Go Green, Guest Blogger, Product Reviews, Spending Less, Travel » STP Multipurpose Motor Treatment Review #engineluv #CBias
This is a guest post by my husband, Craig, who takes care of our vehicles.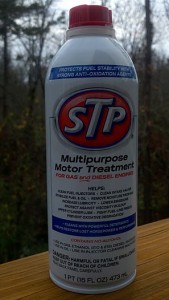 I enjoy taking care of the basic maintenance needs for our vehicles – a 2005 Acura TSX and 2004 Toyota Tacoma.  When I say 'basic' I mean the easy stuff like changing the oil, spark plugs, air filters and topping off fluids. I get our children involved whenever I do these things so they will have some idea how it all works.  It must be working because our 5 and 3 year old pretend to change the oil in their non-functioning Power Wheel and don't yell profanities when they accidentally drop a tool into the engine block.
Recently, I started using the STP Multipurpose Motor Treatment for both our vehicles.  Being that both of our vehicles have over 120,000 miles on them – I figure it is a good time to start using motor and fuel additives.  My previous vehicle was a 1993 Toyota 'truck'. That was before they started calling them T100's, Pre-runners, etc.. So, I certainly have had some experience with motor and fuel additives, which kept that truck running.
The STP Multipurpose Motor Treatment is very easy to use.  You actually use the same bottle for the fuel tank and the motor oil. Here's a little instructional video showing how to use the Treatment in your vehicle (featuring Me!):
I paid about $9 for a bottle at AutoZone which treats 21 gallons of fuel.  Both of our vehicles have about a 16 gallon capacity so I poured about three quarters into the fuel tank right before fueling up and the rest into the motor oil compartment.  The Treatment ratio is 0.76 ounces per gallon of fuel and 1.5 ounces per quarter of oil.  So technically I would need to purchase a second bottle in order to add the recommended amount to the engine oil.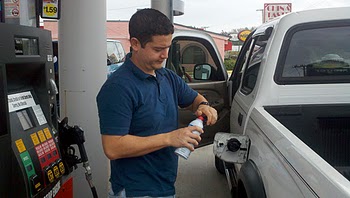 What does STP Multipurpose Motor Treatment do to your engine?  I have no idea.  But just like taking multi-vitamins for your body it just seems like a good idea. Kidding… This additive will basically help clean the muck that builds up in your engine, remove water moisture and help keep things lubricated.  Thus, you're extending the life of your engine (and your vehicle), and increasing your vehicle's fuel efficiency.  If you're like us and have older, high-mileage cars, the $9 spent per can of Treatment can really pay off in the long run.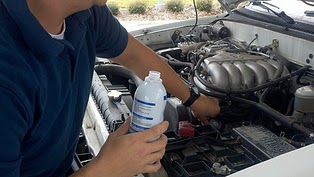 You can get STP Multipurpose Motor Treatment at most any auto-maintenance store. If you want to see a photo story of our shopping experience at AutoZone, go here.  And, before you head off to the store, if you "like" STP on Facebook, you can print a coupon for $1 off any STP product. You can also follow STP on Twitter to get engine maintenance tips.
This shop has been compensated as part of a social shopper insights study for Collective Bias. However, all opinions expressed are my own. #CBias
Filed under: Around the House, Around the Town, Frugal Fawn, Go Green, Guest Blogger, Product Reviews, Spending Less, Travel · Tags: #CBias, #engineluv, coupon, Engine Treatment, review, STP