Instead of the Dishes » Education, Mommyhood, Product Reviews » ShapeOMetry Game Giveaway
The folks at ThinkFun sent me ShapeOMetry to try out with my kids and review on Amazon.  They also offered one for me to give away on my blog.  After trying the game out with my kiddos, I have deemed it worthy of you, oh wise readers!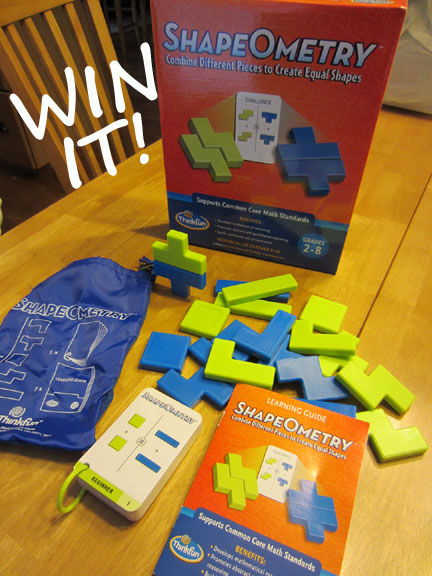 ShapeOmetry uses geometric shape puzzles to help kids develop spatial, abstract, and quantitative reasoning skills. If it sounds really educational that's because it is! But it's also really fun!  The box says that it is for grades 2 thru 8, but I played with both my 1st grader and preschooler, and they also played together. The basic premise of the game is simple: players combine two sets of different shapes to make one identical shape. This is harder than you might think.  However, we quickly found many variations on this that allowed us to have fun with it in different ways based on individual interests and abilities.
The puzzle shapes gave me Tetris flashbacks, and I love that there is a travel bag included.  We're packing ours up to share with my daughter's 1st grade classroom this week.
If you want to read more about ShapeOmetry and see my Amazon review, check out ShapeOmetry on Amazon.
ThinkFun makes lots of fun games and puzzles in addition to ShapeOmetry.  Now through December 25th, you can get 25% off your purchase on ThinkFun's website with the code HOLIDAY2012.
AND, of course, you can enter to win your own ShapeOmetry game below.  Wiggle your nose, because I am using rafflecopter for the first time here on Instead of the Dishes, so you are my guinea pigs! Contest ends Nov. 26.  A winner will be announced Nov. 27. Prize ships to US addresses only.
a Rafflecopter giveaway

Filed under: Education, Mommyhood, Product Reviews · Tags: adults, game, gift, giveaway, Kids, puzzle, ShapeOmetry, ThinkFun