Instead of the Dishes » Guest Blogger, Homemaking, Mommyhood » A Peek At Easter
Nancy and I met through PTA, quickly figured out that we are both writers, have little boys the same age, and that *gasp* we are both bloggers.  It doesn't sound that significant, but it would if you lived here in our small town.  I'm so excited to know Nancy and call her a real life friend, and to be sharing her writing with you today.
Living away from extended family has its perks… for example, no unannounced, just-dropped-by-to-say-hello-and-see-if-your-kitchen-is-clean visits from my mom. But it also has its downside; we are often left to celebrate holidays and other family events all by our lonesome. Easter is one of those times when schedules are busy and extended time off is rare, which means we are often unable to visit family. At those times, we work to keep traditions alive and celebrate in our own little corner of the world. I'd like to invite you in for a peek at what Easter looks like at our house.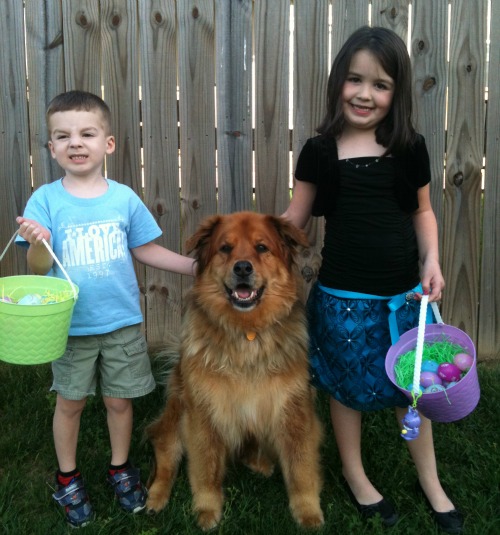 We are blessed to live in a very family-focused community which means plenty of opportunities for Easter egg hunts in the week(s) leading up to Easter. Whether it's my husband's employer, our church, or a community event, one thing is sure: A myriad of treats, egg-hunting, and non-egg-hunting activities (face-painting, games, photo ops, etc.) will abound.
Of course, one cannot neglect the time-honored tradition of dyeing eggs for the Easter season. Whether you like to eat eggs is not the issue, dying them is of the utmost importance. (My son happens to be allergic to eggs, but still loves to take part in the dying and decorating.) We stick to the simple, standard technique…basic colors and stickers. However, if you're more creative and crafty, there are a number of variations like Confetti Easter Eggs and Stamped Easter Eggs. (And if you're looking for a way to eat up all those decorated eggs after Easter, you might try some Avocado Egg Salad or Bacon Cheddar Deviled Eggs.)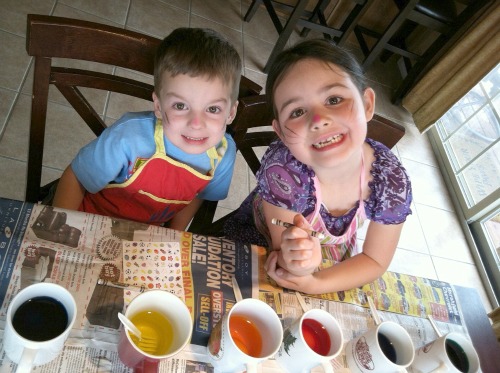 On Easter morning, our kids wake up to a special breakfast. (Well, my Little Man is an early-riser, so he wakes up well before breakfast, but you get the idea.) Last year I made these "empty-tomb" breakfast rolls. They were simple and my kids loved helping to make them, almost as much as they loved eating them!
Of course it wouldn't be Easter without Easter baskets, right? If you're like me, you don't need another basket hanging around that will only end up on a shelf in the garage. So I tend to look for something that can be used throughout the spring and summer. Last year's Easter "buckets" came in handy for collecting produce when our garden started to bloom. Other useful "basket" ideas are reusable totes, beach/swim bags, backpacks, or just simple paper gift bags.
We all know it's not about the basket, really…it's about what's inside the basket. While I'm all for chocolate bunnies and jelly beans, I try to balance the sugar overload with things that are fun, educational, and creative. Some of my favorite things to include are coloring and activity books, play-doh, sidewalk chalk, craft supplies, jewelry, and small toys (cars, Legos, etc.). I might have to try this idea for making "carrots" out of goldfish crackers this year.
We usually indulge in at least one more Easter egg hunt on Easter day (there can never be too many, right?) This one is very laid back and confined to our own yard. My kids seem to love hiding the eggs (over and over and over again!) as much as they love finding the eggs. That's why I love this idea for a reverse Easter egg hunt. Why haven't I thought of that before?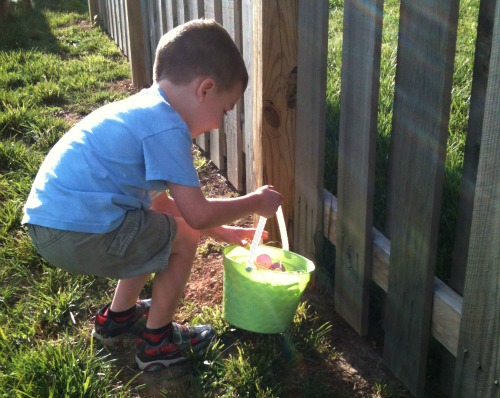 For us, Easter is so much more than eggs, baskets, candy, or even family. It's about our faith, which is central to all we do. In the midst of all the fun, we are also intentional about teaching our kids what we believe and what Easter means to us. We do that by including faith-based items in their baskets, attending church, and talking about the Easter story.
We love a good celebration at our house, and Easter gives us special cause to celebrate. Even the dog gets in on the action!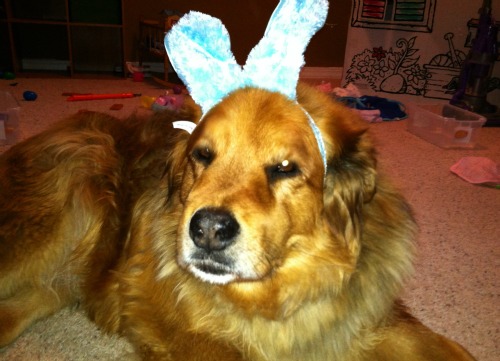 What are some of your favorite Easter traditions? What new things are you doing this year?
Nancy is a lover of words and all things chocolate. She is married to her best friend, and when she's not settling sibling squabbles between her Little Man and Little Miss, she can be found sipping coffee and writing about faith, family, and finding grace in the journey. She blogs at There Is Grace.
Filed under: Guest Blogger, Homemaking, Mommyhood · Tags: Celebrations, easter, Nancy Backues, There is Grace, Traditions